Music Reviews
Page:
<
1
2
3
4
5
6
7
8
9
10
11
12
13
14
15
16
17
18
19
20
21
22
23
>
Various Artists - Think Global 'Acoustic Brazil'
World Music Network
Brazilian music late night style with an unplugged approach and artists that include Orquestra Imperial, Mongol, Maria Bethania, Chico Buarque, Marcos Sacramento and Paulo Moura. The CD is released in association with Oxfam giving a voice to end poverty and defend human rights, let's see the major record companies lend their weight to the campaign as well.

Graham Radley, 06/08

Various Artists - Think Global: Bellydance
World Music Network
Good collection for this 'dance of the Orient,' things crack off with Hossam Ramzy's percussion driven 'Aziza' among 15 tracks with my picks being the Cairo Orchestra with 'Ghannli Shwayyi, Shwayii' and Harem with 'Solo'. Good collection which will suits fans and newcomers alike.

Graham Radley, 07/07

Various Artists - Think Global: West Africa Unwired
World Music Network
13 tracks that feature some of West Africa's greats in the acoustic intimacy of their music. The wonderful Babba Maal & Mansour Seck ease us in with 'Maacina Tooro' with Senegal being further represented by Nuru Kane and Daby Balde. Mory Kante with 'Djou' represents Guinea along with Djeli Moussa Diawara (joined by Bob Brozman), Grand Papa Diabate & Sona Diabate & Kante Manfila. Mali has tracks from Issa Bagayogo, Mah Dama, Coubacar Traore, Toumani Diabatre & Ballake Sissoko and Dieneba Seck while Niger's Etran Finatwa complete this excellent line up.

Graham Radley, 06/07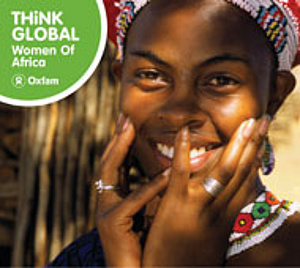 Various Artists - Think Global: Women Of Africa
Think
A collection of 12 tracks that brings together Sally Nyolo & Gueyanka, Oumou Sangare, Gigi, Rokia Traore, Saba, Vakoka with Hanitra, Mariem Hassa, Busi Mhlongo, Mbilia Bel & Tabu Ley Rocherou, Setona, Kandia Kouyate and Miriam Makeba. Need I say more?
Graham Radley, 09/07
Various Artists -
Oyster Music
These two compilations are essentially a selection of best of tracks and remixes from Shaun Escoffery, Geoffery Williams, Blood and Driza. I thought I had just about everything on Oyster, like Jazzanova's blinding remix of "Let It Go" which once heard will be stuck in your head for days. The good news is that they've been holding some treasures back, like 4Hero's remix of "Let It Go", DJ Spinna's remix of "Space Rider" plus Karizma and Spen's remix of "Days Like This". Others have been released as singles, but it's great to have them spread over two cds. It must have been a pleasure going back through the Oyster Music catalogue to put these together. I've heard on the grapevine there's even more to be un-released stuff, so hopefully that will see the light of day soon. What a great label.
Simon Harrison, 05/07

Various Artists - This Is Rong Music
Rong Music
Rong Music have built a solid reputation for releasing quality deep house in its various guises. Be it slow motion disco, electro, ambient or Balearic it's always interesting. This two disc compilation showcases a selection of their output so far. Disc one is mixed by DJ Spun and kicks off with the mid-tempo jazzy groove 'Slow And Low' by Bits Breaks And Beats moving perfectly into 'Set It Up' from Projections before ending on the gorgeous 'Damn Flu' by Mudd. The second disc is unmixed and features delights such as DJ Harry's funky 'Aquarium Man', the boogie bomb 'Outhere' (Instrumental) by Projections and the almost modal 'Kerry's Caravan' again by Mudd featuring the legendary jazz drummer Chico Hamilton. Rong Music it may be but it feels so right!

Andy Allen, 07/07
Various Artists - Timeless Finest Jazz
Dopeness Galore
Timeless Records was established in Holland in 1975 initially as a means to expose US jazz artists to a European audience. Compiled by the folks behind the Kindred Spirits label this twelve track disc unearths some absolute gems. The album opens in fine style with Rodney Jones' dreamy fusion piece 'Articulation' from 1978, before slipping into 'Moonchild' and 'Africa' by Pharoah Sanders. Batida are represented with their versions of 'Ponteio' and 'Vera Cruz' and there's also a great version of Horace Silver's 'Sayonara Blues' by The Bronx Horns. Other highlights are Carter Jefferson's majestic 'The Rise Of Atlantis', Benny Golson's tribute to John Coltrane, 'Times Past (This Is For You, John)' and 'Aquelas Coisas Todas' by Samba Trio. For the vinyl junkies there's also a four track sampler available.

Andy Allen, 02/06

Various Artists - Trojan Sound System Vol.1
Sanctuary Records
Due for release in late May this compilation from Sanctuary aims to fuse together the classic sounds of the reggae world with the vibe of the original sound system culture. Mixed by the Trojan Sound System, it certainly hits the mark on both counts. The album is jam packed with reggae favourites from Junior Murvin, Harry J All stars, Johnny Clarke and Keith Hudson but to name a few, but this is not a straight up mixed compilation. The Trojan Sound System have recreated the true sound system vibe and have added siren sampled sounds along with their own MC crew toasting over the tunes and ting. The whole thing works really well and for reggae lovers is an essential purchase with Summer round the corner.
Jax, 04/06
Various Artists - Twelve Inches of Pleasure Part II
BBE
BBE have been digging through the vaults of un-released tracks and remixes to come up with volume two of the Twelve Inches of Pleasure series. Well over a year ago I was given a copy of the excellent Shur-I-Kan Remix of D'Nell's "1st Magic" and I'm pleased inform everyone who has asked me about it, yes it's on here. The majority of the tracks featured are remixes of Roy Ayers and if you missed out on Osunlade's Remix of Searching, that is a must. Phil Asher's remix of "Liquid Love" is nothing short of brilliant but he's never put a foot wrong in the years I've been buying his music. Make sure you also take note of Aaron Jerome's mix of "I Am Your Mind", Yam Who's remix of Ski Oakenfull's "Heavenly" plus a new track from Ski Oakenfull "New Orleans Under Attack". I think you'll agree, an essential compilation.
Simon Harrison, 02/07

Various Artists - Two Tribes
Agogo
"Two Tribes" showcases the collaboration between African and European artists who reside in Europe. The compilation features a number of brillant musicians starting with composer/guitarist Andrea Benini' afro-funk banger "Jawa". Ghanaian singer Blay Ambolley's "Walk For Ground" receives an injection of beats courtesy of the Aldubb remix. "Titon To" is a high energy percussive driven tune by Finnish-Beninese group Trio Toffa. "Mozambique" is another up-tempo highlight by the native Mozambican vocalist Selma Uamusse. The disc wraps up with DJ Raoul K's fifteen minute pulsating "Just a Moment To Find A Way To Sun Day". Raoul K combines West African rhythms with European production stylings and the result is a long playing Afro-house gem. Agogo records always manage to emerge with a treasure chest of global gems and this compilation is no exception.
Andy Allen, 05/19
Page:
<
1
2
3
4
5
6
7
8
9
10
11
12
13
14
15
16
17
18
19
20
21
22
23
>