Music Reviews
Page:
<
1
2
3
4
5
6
7
8
>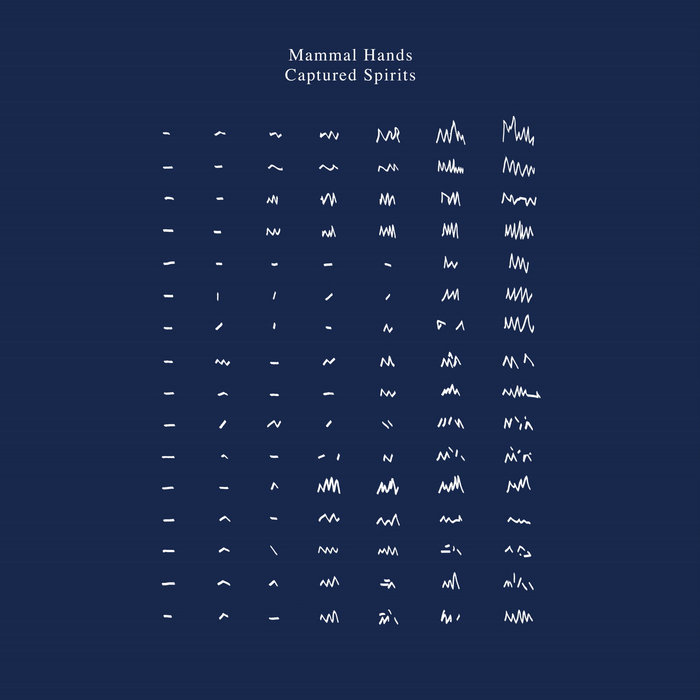 Mammal Hands - Captured Spirits
Gondwana
"Captured Spirits" is the fourth album the Norwich trio known as Mammal Hands. Saxophonist Jordan Smart, pianist Nick Smart and drummer Jesse Barrett merge classical jazz and electronica into a distinctively polished and engaging sound. Highlights include "Spiral Stair" where Nick Smart's melodic fingers strike a chord with brother Jordan's soft yet hearty tone. "Riddle" is filled with dazzling improvised interplay between the Smart brothers. Jordan's euphoric keystrokes set the bar for Nick's melodic phrases and create some wondrous moments. Let's not forget Barrett here, his drumming ranges from the orchestral to the understated whisper thereby setting the table for the Smart brothers to soar. Together the trio create a mood of euphoric orchestral soundscapes that provide a joyful spark throughout. A sparkling showcase and another gem from the Gondwana record label.
Reg Dancy, 10/20

Marathon Men - Blessings
Chillifunk Records
The Marathon Men have been causing quite a stir over the last few months with their deep house workout featuring Me'shell Ndegeocello "In Paradise". Out of the blue comes their debut on Loft's Chillifunk records. Simbad and partner in crime Freddie McQuinn, really know how to mix up the styles with Garage, Broken, Hiphop beats and a full range of vocalists to suit the arrangements. At the start of a few of the tracks, I was little unsure of some of the vocals; but then half-way through each track it made sense. On second listen, all the parts of the puzzle were in place. Their first single "Tell Me What You Know" is very much in a Basement Jaxx affair, which will hopefully give them the attention they fully deserve.
Simon Harrison, 11/05

Marc Mac presents Visioneers - Dirty Old Hip Hop
BBE Records
The wait is over! Marc Mac "better known as one half of 4 Hero" has finally delivered his much-anticipated Visioneers long player. This meeting of Jazz and Hip-Hop cultures sees Mac reclaiming some of the best-loved samples from Hip-Hop's heyday and recycling them in a fresh and powerful manner (check Benji B favourite Ike's Mood I and the timely cover of The Pharcyde's Dilla-produced Runnin'), as well as uncovering some serious gems of his own. And, he manages to create 15 Jazz, Soul and Funk driven grooves without ever even threatening to become tedious. Dinner Jazz this is not!
Every track on Dirty Old Hip Hop has an organic energy about it, with welcome contributions from Twisted Funk's Brad Somatik and the telented 4 Hero drummer Luke Parkhouse. Picking stand-outs from this album is nigh-on impossible and stellar rap-cameos from the ever-impressive Capitol A and female emcee Voice on Funk Box and Replay, respectively, simply put the icing on the cake. In paying homage to the likes of Jazzy Jeff, Jay Dee and Pete Rock, Mac travels far beyond mere imitation and proves once again that he really ain't too shabby himself. Essential listening!

Tom Breslin, 03/06

Marco Di Marco Trio - At The Living Room
Arision Records
Following on from 2004's 'My London Friends', Arision have kindly given us a chance to own a copy of this now legendary jazz album, where the original sells for big bucks. Recorded at the Living Room in Paris in 1973, this has to be up there with the best piano jazz albums ever recorded. Here Marco plays both the fender Rhodes and piano, to amazing effect with Jacky Sampson on bass and Charles Saudrais on drums, to achieve those funky basslines. Watch out for more reissues from the Arision stable.

Simon Harrison, 06/05

Marcos Valle - Sempre
Far Out Recordings
Marcos Valle returns with another collection of samba tinged boogie tunes. "Sempre" is Valle's fifth release on the Far Out label. This vibrant recording is heightened by prominent Brazilian musicians like Asymuth bassist Alex Malheiros and percussionist Armando Marcal among others. The opener "Olha Quem Ta Chegando" is infectious samba boogie laced with funky guitar and brass arrangements. "Odissela" is a funky synth laden instrumental. "Alma" is a mellow sun drenched head nodder. Valle's vocals are in peak form and the production is in the capable hands of Daniel Maunick (son of Incognito frontman Bluey). This is another impressive release from the resurgent vocalist that will please long time fans and attract newcomers as well.
Reg Dancy, 08/19
Marcos Valle, Ali Shaheed Mohammad & Adrian Younge - Marcos Valle JID003
Jazz Is Dead
The Jazz IS Dead series, lead by Adrian Younge and Ali Shaheed Mohammed strikes again with the legendary Brazailian vocalist Marcos Valle taking center stage. What Younge and Shaheed Mohammed do so well capturing the emotion of Valle's sound while blending it with their analog 70's soul influenced arrangements. The studio sessions harken back to the days when artists completed a recording in one or two takes and that's more than enough for the veteran vocalist to shine. "Queira Bem" is filled with sun drenched rhodes and sparkling percussion. Valle's vocals float over the rhythm like a warm summer breeze. "Viajando Por Al" is a seductive bossa duet. "Nao Sala Da Praca has a percolating groove that's tailor made for Valle. The dusty analog approach from Younge and Shaheed Mohammed are a match made in heaven for one of the vocal Kings of Brazil. Simply a superb release worthy of repeated listens.
Reg Dancy, 09/20
Mario Lucio - Badyo
LusaAfrica
Third solo release since his days as songwriter for Simentera. 'Badyo' but the first one to get an International release. On this he takes his Cape Verdean roots back to the arrival of the African slaves and the styles and influences they brought with them (he wears a chain around his neck instead of a tie on the cover image). It's a grower this one with a subtle but telling rawness that soon involves you and brings you back for more, very good.

Graham Radley, 06/08

Mark De Clive Lowe - Church
Ropeadope
There are few of artists who perform comfortably in a myriad of musical styles as well as Mark De Clive Lowe. His personal projects range from Jazz, Broken Beat to Hip-Hop and future soul. In addition, his production credits extend to artists like Sy Smith and Sandra St Victor, not to mention numerous collaborations with the likes of Sheila E and Omar just to name a few. His latest project entitled "Church" is named after the music events he hosts in New York and Los Angeles respectively. From the opener "The Mission", a simmering appetizer that builds momentum features rapper John Robinson. "Brukstep" is a frenetic up-tempo number that displays his keyboard wizardry. Vocalist and partner Nia Andrews contributes her blissful vocals to the elegant tune "Hollow" as well as two other compositions. There's a number of tasty Jazz compositions here that are airy and rhythmic like "Imam" and "Sketch For Miguel" the latter featuring Miguel Atwood Ferguson on Viola and Jamire Williams on drums. Quite simply you can insert this disc, press play and walk away and you're disappointed only when the record ends. Highly recommended.
Reg Dancy, 06/14
Mark De Clive Lowe - Heritage
Ropeadope
Pianist/Producer Mark De Clive Lowe explores his ancestry with his latest release "Heritage". De Clive Lowe consulted with his family to gain a deeper understanding of his Japanese roots and the results are his most personal work to date. "Bushido 1", meaning "The Way of the Warrior" begins with a splash of piano aligned with Josh Johnson's simmering alto sax. De Clive Lowe's melodic excursions takes the listener on a mystic voyage. "Memories of Nanzenji" is a meditative tune that is awash in Brandon Combs expressive cymbals. De Clive Lowe and Johnson's playing is free flowing and spiritual. "Niten-Ichi" begins with a slow burning piano that quickly evolves into a high energy free for all that includes Teodross Avery on Tenor sax. "Heritage" is the first of a two part project. Based on De Clive Lowe's brilliance here, there's no doubt that part two will be as equally rewarding as this one
Reg Dancy, 04/19
Mark De Clive-Lowe - Journey To The Light
Freedom School
While Mark De Clive-Lowe isn't known as a Jazz purist, he has proven to be a wizard on the keyboards and synthesizers. His latest project, "Journey To The Light", is a snapshot of the live Freesoul sessions he has performed over the last year or so. This project is a combination of cosmic Jazz improvisation and break beats. You may find yourself wanting to dance to this one minute or simply just enjoying the live instrumentation the next. One of those tracks that will make you move is "Voices Whisper". Bembe Segue's wonderful voice and scatting towards the end graces this track and the others as well. However, it is the work of Jason Yarde on Sax, Richard Spaven on drums and percussionist Sammy Figueroa that really move this disc. Jason Yarde's solo work is powerful and a real treat while Richard Spaven's drumming pushes everyone to greater heights. "Peace Be Central" offers more of the same. Mark's rhythmic piano playing has never sounded better and the energetic playing left plenty of space for the lyricism of Bembe Segue's scorching vocals. Mark and Bembe have been making beautiful music together for some time now. This is just another major achievement of the great music these two have collaborated on. This is not easy to find but certainly worth the effort. Recommended.
Reg Dancy, 01/08
Page:
<
1
2
3
4
5
6
7
8
>