Music Reviews
Page:
<
1
2
3
4
5
6
>

Nicola Conte - Viagem 5
Far Out
When you think of Nicola Conte you think of Jazz infused Samba and Bossa Nova. There's plenty of that on "Viagem 5" as he has gone deep into the vaults of Brazil's treasured sounds of the 60's. As you might expect this seventeen track is filled with an array of warm and melodic compositions that captures the spirit of Brazil during turbulent times yet still resonate today. For instance there's a tasty cover of "Vou De Contar" performed here by Quarteto 004. "Quintessencia" is soothing modal Jazz with intoxicating vibraphone rhythms courtesy of Zumba 5. "Se Voce Quiser Mas Sem Bronquear" is filled by with lush strings and the lovely voice of Elizabeth Viana. "Viagem 5" is a journey into a creative period of swinging Brazilian Jazz n Bossa and we can always count on Nicola Conte for shining a light on such a rich collection of timeless music.
Reg Dancy, 09/13
Nicola Conte & Gianluca Petrella - People Need People
Schema Records
Italian DJ/Producer Nicola Conte's latest release "People Need People" finds him returning to form of showcasing Italian Club Culture. Conte is more than just a DJ these days. He's become a solid guitarist and he's surrounded himself with an esteemed group of musicians. Accompanied by Trombonist Gianluca Petrella, the duo collaborated on a couple of EPs and this superb release is the manifestation of those efforts. There's much to savor here starting with the opening track. "Hold On To Your Dreams" opens with Magnus Lindgren's meditative flute which sets the mood for Debo Ray's enchanting vocals. "The Higher Love", a sublime tune that offers a message of hope and change. Vocalist/pianist Carolina Bubbico's evocative vocals combined by with the raw poetic skills of rapper Rashan Ahmad make this tune an instant favorite. Another keeper is the title track. A rumbling tune with heart pounding percussion and vibes courtesy of Pasquale Mirra. Bubbico provides backing vocals for Davide Shorty as he sings about the need for us to step away from our devices and become social again. Conte and Petrella have created a brillant record filled with global rhythms. Their mission is heal wounded souls through these beautiful recordings. Without a doubt one of the best releases this year.
Reg Dancy, 04/21

Nicole Willis - My Name Is Nicole Willis
Persephone records
"My Name Is Nicole Willis", is the latest release from the Finland based classic soul vocalist. Ms Willis revisits some of her earlier releases as well as unleashing new material with help from The Umo Jazz Orchestra. For their part the Orchestra's added horns and producer Jimi Tenor's arrangements create a dynamic classic soul experience. One of those new tracks, "Haunted By The Devil" opens up with lush horns and strings followed up with Pete Toikkanen's funky wah wah guitar. "Together We Climb" should be familiar to fans. Originally performed by Nicole and The Soul Investigators, this alternate take maintains the infectious groove and bluesy guitar rhythms while incorporating swaying orchestral arrangements. "Still Got A Way To Fall", another bluesy soul burner finds Willis performing spoken word about perseverance through trying times. The Willis, Tenor and Toikkanen partnership knows a thing or two about quality soul music. This sparkling release takes their sound to another level.
Reg Dancy, 10/17
Nicole Willis & Banda Palomita - My Soul Sensation
Persephone
The songstress Nicole Willis returns with a new album and a new band. "My Soul Sensation" marks a more modern sound and she sounds right at home. The band Banda Palomita is comprised of members from Finland, Senegal and Brazil. They demonstrate their ability to create tasty laid back grooves to complement Nicole's soaring vocals. "Save Me" is a mellow RnB tune with a sprinkle of synths and percussion. "Reparate" is a mid-tempo boogie tune and "Free" is a dance inspired funk burner filled with infectious electric guitar. Willis has shown time and again that she can belt out classic soul tunes with the best of them. This refreshing release shows she's a delight in any style.
Reg Dancy, 04/19
Nicole Willis and The Soul Investigators - Happiness In Every Style
Timmion
On their third lp, Nicole Willis & The Soul Investigators take the edge off their signature sound of unfiltered modern soul grooves. Don't be alarmed, "Happiness in Every Style" still packs plenty of grit for you to shake your groove thing to. Willis raw emotive vocals shine on a number of tracks here while The Soul Investigators lay down tasty grooves and strut their stuff throughout. Among the highlights are "Let's Communicate", where Willis vocals dance over funky horns and rhythmic guitar. "Angel" is an engaging yet tender ballad. "Together We Climb" is a mellow funk track laced with melodic wah-wah flavored rhythms. "Hot Sauce", one of three instrumentals is slow burning psychedelic funk. Engaging vocals, solid songwriting plus and strong melodies add up to another winner from the Finland based band.
Reg Dancy, 12/15
Nicole Willis And The Soul Investigators - Keep Reachin' Up
Timmion Records
I've been holding back buying this album for a few months hoping that vinyl copies might appear but in the end I just couldn't wait any longer. Nicole Willis has been on the scene for years but I still get the impression that she still hasn't received the attention she fully deserves. Not many people can say they've worked with Brand New Heavies and Curtis Mayfield and that they were one of the original members of Dee-Lite or recorded for the legendary Mo' Wax. As I'm sure you've guessed, this time Nicole teams up with Finland's funk band The Soul Investigators, who have built their own reputation over the years. The final result is a wonderful 70's funk mash-up that could easily fool any music purist into believing this was recorded back in the day.

Simon Harrison, 03/06

Nicole Willis and The Soul Investigators - Reachin Up Remixed
Above The Cloud Recordings
I'm having a hard time deciding which version I like most. Nicole Willis and The Soul investigators dropped "Keep Reachin Up" over a year ago. To worldwide critical acclaim. This was throwback soul music that took you back to an era of folks playing 45's on the stereo. Brooklyn borned Nicole Willis and Finland's The Soul Investigators are taking soul music back to its purest form. Except this time around they have some of the hottest DJ's dropping by to put their stamp on already quality soul. On "Feeling Free" Aaron Jerome adds nice chords to an already bumpin track. Mr Scruff adds banging drums to "If this Ain't Love". And the Dynamics's remix on "My 4 Leaf Clover" gives the track a dubstep feel to it. From a purist's standpoint, you might want to pick up the original, if you don't have it already. However this is one of the rare remixed cd's that don't disappoint. Definitely worth checking out.
Reg Dancy, 01/08

Nicole Willis and The Soul Investigators - Tortured Soul
Timmion Records
It's hard to believe that eight years has elapsed since "Keep Reachin' Up"; the fantastic debut by Nicole Willis & the Soul Investigators first hit the scene and quickly became a favorite of DJs and classic soul aficionados worldwide. Their sophomore release, "Tortured Soul" picks up right where they left off with a sizzling selection of hot buttered gritty soul. Highlights include "Light Years Ahead" a vintage deep soul hip shaker filled with a thumping bass and strings. "On the East Side" is an achingly slow burning dim the lights groover. "Tell Me When" is another soul gem with thick bass lines and funky horns. Nicole and The Investigators once again strike the right balance between hard rhythms, soft vocals and emotive compositions. It all adds up to a deeply satisfying dose of soul music that you shouldn't miss.
Reg Dancy, 06/13

Nightmares On Wax - In A Space Outta Sound
Warp
This is George's fifth studio album and 4 years since the release of the last N.O.W. long player 'Mind Elevation'. Respect goes out to the fact that George Evelyn is the longest serving artist on the legendary Warp Records label and is about to drop some tunes on his very own label 'Wax On Records'.
'In A Space Outta Sound' is exactly what you'd expect from a Nightmares On Wax album. Massively chilled, full of soulful beats and teasing with the odd vocal here and there. Those expecting something different from the usual N.O.W. stuff will not find it on this album. But don't get me wrong, the sound George creates, he creates very well and the beats on this album do sound fresh and are definitely aimed at the more laid back situation if you know what I mean.
Nightmares On Wax fans will dig the album for sure and it'll be good to hear these new tunes performed live where I feel you'll be given a new dimension to the sound. It's no 'Smokers Delight' but that was an album of it's time. 'In A Space' Is less sparse with more a groove, great production and a overall quality vibe. A solid soulful number 5 for N.O.W.
Jax, 02/06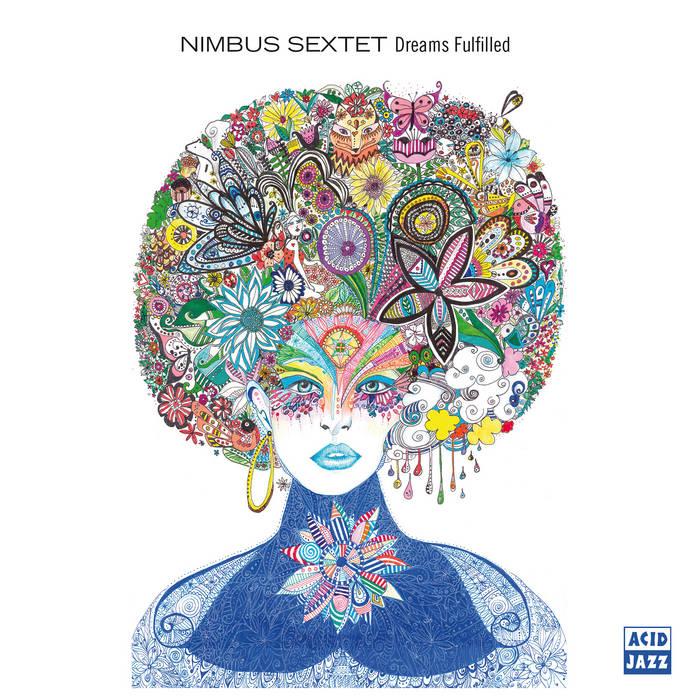 Nimbus Sextet - Dreams Fulfilled
Acid Jazz
Led by pianist Joe Nichols, the Glasgow based jazz band Nimbus Sextet unload an array of engaging soul jazz recordings. The core of the band, Nichols, drummer Alex Palmer and bassist Mischa Stevens came together while attending Edinbough University. By 2018 the band evolved into a sextet, which brings us to their debut"Dreams Fulfilled". They bust out of the gate with the searing groove of "Trap Door", riped with blazing horns and melodic keys. Nichols along with Saxophonist Martin Fell sereanades us with warm mellow melodies on "Klara". Guest guitarist Luca Pisanu adds adventurous rhythms to the contemporary piece "Seance". An impressive debut for this talented group that will garner plenty of attention.
Reg Dancy, 10/20
Page:
<
1
2
3
4
5
6
>