Music Reviews
Page:
<
1
2
3
4
5
6
7
8
9
10
11
12
13
>

The Cinematic Orchestra - Les Ailes Pourpres OST
EMI
The fact that the Cinematic Orchestra's latest release is on the Disney Nature label might be cause for alarm for die-hard fans who might think they sacrificed their eclectic sound for commercial success. While "Les Ailes Pourpres" doesn't possess any of the electronic jazz stylings of "The Man with a movie camera" or "La Fleur", there is still plenty to like about this soundtrack. Jason Swinscoe adeptly composes a new score for Disney about the lives of Flamingos on Northern Tanzania and creates a peaceful and elegant composition that flows from one track to the next. Each track plays like a suite so there isn't much in the arrangements that distinguishes one from the other but there are a few standouts like "Arrival of the birds" and "Marabou", the latter starts out with a haunting bass clarinet riff that draws you deeper into the melody. "Crimson Skies", sung by Luo Rhodes is a nice record and is the only vocal track on the album. Overall this is a nice, relaxing soundtrack. Pour yourself a good glass of wine and enjoy this fine piece of work.

Reg Dancy, 09/09

The Clonious - Between The Dots
Ubiquity Records
Twenty three year Paul Movahedi, aka the Clonious is more than just a beatmaker. He is a musician with an affinity for straight ahead jazz and ability to improvise with various genres. On his fantastic debut "Between the dots", he blends his jazz influences with hip-hop samples and creates a sonic mix of adventurous electronic music with subtle insertions of live instrumentation. The Clonious abstract compositions works wonders on songs like "One at a time", where Muhsinah's soulful eclectic phrasings are the perfect compliment to his spacey arrangements. "Bugs n' fools" features lush vocals on the chorus and a funky stinging rhythm guitar. "Dataflow" strikes a delicate balance between tripped out fusion and hip-hop with satisfying results. "Lovelights" is a spaced out funk gem that features Dudley Perkins and Georgia Anne Muldrow. "Between the dots" is a triumphant debut that will excite listeners who are open to a hybrid of electronic beats with a hip-hop jazz esthetic. The Clonious ability to create sounds that venture out of the comfort zone will make him a household name in short time. Get familiar.
Reg Dancy, 11/09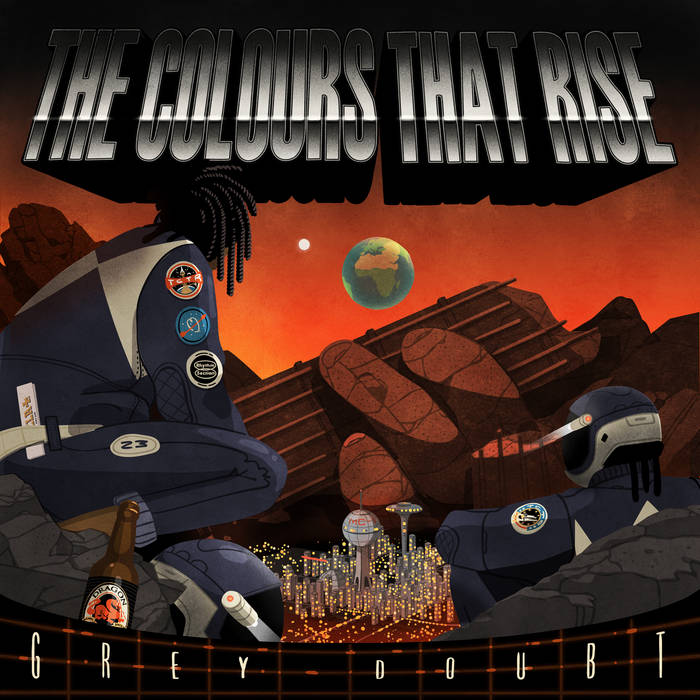 The Colours That Rise - Grey Doubt
Rhythm Section International
Producer Simeon Jones and Nathanael Williams form the duo known as The Colours That Rise. Their latest release "Grey Doubt" is lo-fi celestial electronica built on funk, broken beat grooves and spacey synths. This is the follow up to their impressive EP "2020". "Hype Lane" is laid back galactic funk with a wobbly 70s wah wah groove. "The Juice" is a touch of afro house highlighted by the vocals of Andrew Ashong. The aptly titled "Atmosphere" erupts with warm and mellow chords merged with the sultry vocals of Yazmin Lacey. The compositions here are intertwined with dialogue alleging that black people are living on Mars. The point being that you must be mindful of the conspiracy theories that are floating in the universe. It's tastefully done and blends seamlessly with the spacey compositions on tap here. I recommend you take a trip through this galaxy of gorgeous grooves and enjoy the ride.
Reg Dancy, 06/20

The Dragons - BFI
Ninja Tune
Although recorded in the late 60s this is the first ever release of this album. It came about following DJ Food's discovery of The Dragons' 'Food For My Soul' on an old surfing movie soundtrack. He eventually tracked down the band to find they had recorded a full album of material which until now had never been issued. 'BFI' is very much based in psychedelic rock but with heavy doses of funk and jazz thrown in for good measure. 'Food For My Soul' is definitely the strongest cut on show but not to be overlooked are 'Are You There?', 'Sunset Scenery' and 'Your Way Too'.

Andy Allen, 10/07

The Expansions - Murmuration
Albert's Favourites
The Expansions are a quartet hailing from South London. They made quite an impression with their debut EP "Lavender". Their latest release "Murmuration" builds on their debut with more funk infused jazz and soul rhythms. "Pocket 5" is fueled by spirited drumming from Jonny Drop and a thumping groove courtesy of bassist Matt Summerfield. On "Cannonball" Dave Koor's mellow earthy synths along with James O'Keefe's guitar provide plenty of warm vibes. "Ivory Mountain" is an uptempo fusion highlight driven by spacey synths and a pulsating groove. The Expansions breathe new life into the 70s fusion period with this engaging record. They've learned well from their influences while creating a sound all their own.
Reg Dancy, 04/18

The Fantastics - Mighty Righteous
Freestyle Records
On this eleven track set, the Fantastics demonstrate that they know a thing or two about making funky music. And why not? The band formerly known as Rev. Cleatus and the soul saviours has it all, the simmering horn section, the funky bass and sweet hypnotic sounds of the Hammond b-3 organ. They tear through tracks like "Don't follow leaders", a gritty up-tempo jam that has the band swinging and just simply having a good time. On "The Doctor is in", they bring the energy down just a bit but still keep it funky and greasy. "Blue Sunday" shows a mellow side of the group. The track features Pete Collison stringing together some hypnotic guitar licks over a laid-back groove that features some sweet flute playing by Mark Norton. From start to finish the Fantastics provide plenty of funky grooves to make you move your body or just simply listen and enjoy. If you like the sounds of bands like The Meters or the JB's then you'll certainly enjoy "Mighty Righteous".

Reg Dancy, 03/09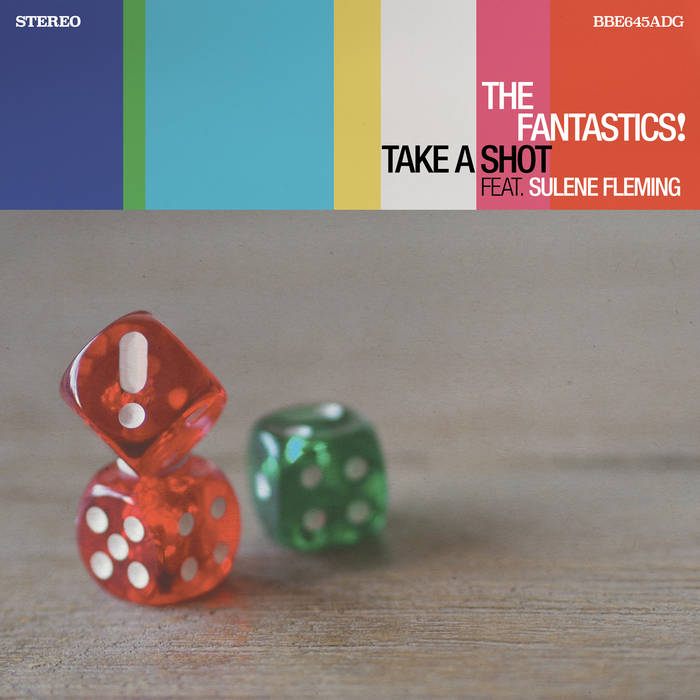 The Fantastics - Take A Shot
BBE
Hard to believe it's been nine years since The Fantastics last full length release. The band turned over their roster and only two members remain from the original lineup. Recently they have gone out on the road to try out their new material and based on this new release, the audience gave marks. "Take Another Shot", their third lp is filled with high energy funk and soul jazz compositions that have become their trademark. Keyboardist Greg Boraman, one of the original members has tapped into new blood to push the band's music forward. Guitarist James Byron brings an open minded approach to genre bending compositions resonating throughout the recording. Vocalist Selene Fleming's resume includes appearances with Incognito and Leroy Hutson. She punctuates a number of tunes here like "Say You Will" and "Can't Decide". The latter is an organ fueled psychedelic tune with rip roaring guitars. Mark Norton's melodic flute is front and center on the mellow soul jazz tunes "Better Than Dead" and "Oblique". Overall it's a strong ten track album that will certainly satisfy your soul jazz palette.
Reg Dancy, 09/21

The Five Corners Quintet - Chasin' The Jazz Gone By
Ricky-Tick
Although the CD was released a few months ago the beautifully packaged vinyl version has only just surfaced. If you've already got the 3 10" releases then you'll have most of the tracks here. Don't make the mistake of thinking the rest of the album is made up of fillers though. Far from it, in fact we're treated to another 2 tracks featuring the vocal talents of Mark Murphy, 'This Could Be The Start Of Something' and 'Jamming (With Mr Hoagland)' a great spoken word outing. Also take a listen to 'Case Study' with Okou and 'Unsquare Bossa', a Hammond organ led dancer. This is an outstanding album by a truly outstanding band. Be quick though as the vinyl edition is in seriously limited supply.
Andy Allen, 01/06
The Green Arrows - Analog Africa No 1
Alula Records
Highly significant group to come out of Zimbabwe in the 1970's who used the political upheaval of the time as a positive force within their adventurous music which brought together the different rhythms of the region. 20 re-mastered tracks taken from 1974's Chipo Chiroorwa LP and from singles recorded between '76 and '79 showcasing their mellifluous, dancing, guitar led funky African music. Excellent.
Graham Radley, 06/07

The Grits - The Grits
Freestyle Records
With a name like The Grits, one would expect nothing but raw uncut funk. The group from Brighton delivers with a ten track disc full of funky instrumental soul numbers sure to make your head nod and leave you feeling nostalgic of the days when you heard tunes like this everyday. The disc starts out with the laidback "Ug Ug Aah", this track boasts catchy guitar rhythms, the delightful sounds of the Hammond b-3 and funky drums that will make you want to move. The group lays some grease on tunes like "Jam Jam" and "Crazy Legs". On "Funky Soul Brother" this track is supported by a serious bass line that allows the rhythm section plenty of room to create soulful harmonies. Most of the tracks here barely exceed three minutes but they make good use of every note. There's no showboating here just a good old fashioned jam session that will satisfy any loyal funk enthusiast. This is a very enjoyable record by a talented band worth keeping an eye on.
Reg Dancy, 12/08
Page:
<
1
2
3
4
5
6
7
8
9
10
11
12
13
>