Music Reviews
Page:
<
1
2
3
4
5
6
7
8
9
10
11
12
13
>

The Groanbox Boys - Smokestack Trilogy
Groanbox Music
UK based Americans Cory Seznec & Michael Ward Bergeman with an excellent release that brings us the world of the train, the hobo and the American past. This is old time foot stomping American blues played on accordion, acoustic guitar, banjo, piano and harmonica. My pick is 'Hobo Heaven' a track full of feeling. Very good
Graham Radley, 03/07
The Haggis Horns - One Of These Days
Haggis Records
The Haggis Horns 4th album "One Of These Days" features a grittier bluesy sound while maintaining their trademark raw soulful sound. The slow grinding groove of "Curse Of The Haggis" is evidence of that and a pleasant sign of things to come. Long time member Lucinda Slim adds her sultry vocals to the mid-tempo "World Gone Crazy". On "All Fuzzed Up" the band demonstrates that they can turn up the heat when necessary. There's much more to savor here with appearances from John McCallum and Doc Brown respectively. Twenty years on the scene The Haggis Horns are still one of the premiere UK soul bands around today.
Reg Dancy, 12/17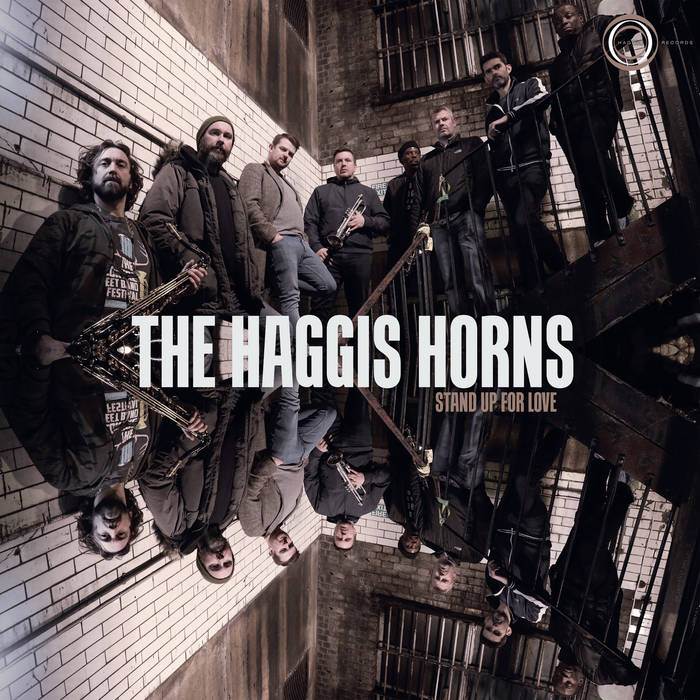 The Haggis Horns - Stand Up For Love
Haggis Records
"Stand Up For Love", the fifth album from The Haggis Horns finds them getting back to basics. Which is stripped down hard driving funk and soul. "Don't Give A Damn" features John McCallum's vocals in top form soaring over the gritty funk groove. They slow the tempo a bit on "Suzi Traffic" and "Give It Up" thereby giving you a moment to catch your breath before they kick back into high gear. The title track demonstrates they can rock a reggae groove as well as they can bring the funk. This release is a reunion os sorts with several original members on board for this session. They're cooking on all cylinders and deliver another crowd pleasing lp.
Reg Dancy, 07/20

The Haggis Horns - What Comes To Mind
Haggis Records
The Haggis Horns have been serving up their brand of funky horn arrangements to a long list of artists like Mark Ronson, Corrine Bailey Rae and The New Mastersounds, with whom they first premiered. With their third lp, entitled "What Comes To Mind" , they have solidified themselves as a funk and soul band capable of laying down the grooves to make you move. Evidence lies with tunes like "Give Me Something Better" featuring vocalist John McCallum. Lucinda Slim, the other featured vocalist adds some spice to "I Can't Stop This Feeling". "Keep On Bumpin" is reminiscent of early seventies boogie funk. Prominent backing vocals and exciting horns make this a worthy listen for funk and soul enthusiasts.
Reg Dancy, 01/16

The Heritage Orchestra - The Heritage Orchestra
Brownswood Recordings
Already off to a flying start with the likes of Ben Westbeach and a UK issue of Soil & Pimp Sessions, Gilles Peterson and Simon Goffe's new Brownswood label now unleashes the outstanding debut from The Heritage Orchestra. The forty plus collective in collaboration with Chris Bowden present a selection of beautifully crafted cinematic jazz-funk arrangements. From the set's opener 'Mothers And Daughters Now Mothers', a nine minute epic, you know you're in for a treat. The drama continues with breathtaking moments such as 'Sky Breaks' featuring vocalist Liz Swain and 'Tell Me Stories' with Natalie Williams on lead but this is an album that really needs to be savoured in its entirety.

Andy Allen, 09/06

The Idan Rachel Project - Within My Walls
Cumbancha
Second International release from Israeli composer and keyboard player Idan Raichel further developing his range of influences so that Israeli/Middle Eastern fuses into a wider global soundscape. Sung in Hebrew, Arabic, Cape Verdean (Mayra Andrade is a songwriting collaborator) Creole, Spanish and Swahili you get a feel of the diversity with other collaborators including Marta Gomez, Somi, Zohar Fresco and Alon Nadel plus a 24 piece orchestra. Old meets new, ambient meets traditional, the result is captivating.

Graham Radley, 05/09

The Impellers - My Certainty
Legere Recordings
On one hand The Impellers third release "My Certainty", is packed with the raw soul you've come to expect from the ten piece band. On the other hand this release offers a new wrinkle or two and displays noticeable growth in their music. Vocalist Clair Witcher lures us in with her sultry voice while composer mufti-instrumentalist Glenn Fallows and the band lay down tight grooves throughout the disc. "The Routine" is a signature Impellers tune that's filled with funky horns and infectious guitar rhythms. The title track ventures into acoustic territory and presents a pleasant change of pace. "Can't Change Me" is a bluesy slow grinding ballad. Fans will appreciate the evolution of their funky sound while newcomers will simply enjoy the ride.
Reg Dancy, 07/14

The Impellers - This Is Not A Drill
Legere
The ten piece soul juggernaut known as The Impellers return with their second full length lp. Their twelve track sophomore release features plenty of soulful bangers like "Hear What I Say", filled with funky horns and the wicked rhythm section that will certainly move your feet and twist your hips. "Pon Lo Afuera" is another winner filled with funky drumming and tasty Rhodes. "Signs Of Hope and Happiness" is slow burning grind it out soul that is certain to turn up the heat. Their first recording for Legere records is evidence that The Impellors can lay down a groove and bring the funk with the best of them. As the title implies this is not a drill, just real live soul that will meet the approval of raw soul aficionados worldwide.
Reg Dancy, 05/12

The Invisible Session - The Invisible Session
Schema Records
Paolo Fedreghini and Marco Bianchi together with Schema's co-founder Luciano Cantone are The Invisible Session. There are no real surprises here just the type of solid Italian jazz we have long come to expect from Schema. Jenny B handles most of the vocal chores throughout this set and particularly shines on the stunning mid-tempo groove 'Til The End' and the single 'To The Powerful', a deep and mystical affair.

Andy Allen, 05/06

The Ipanemas - Call of the Gods
Far Out Recordings
There's little of note to be said about The Ipanemas that hasn't already been said before. Essentially, all you really need to know is that, having formed in the 1950s, their experience and pedigree is unrivalled within Brazilian music and that there are no finer proponents of the afro-bossa nova sound (that they so lovingly pioneered and perfected) alive today. This, their fifth album, is quite simply wonderful. There is no gimmicky concept or technological trickery, just sublime, timeless music.

Tom Breslin, 09/08
Page:
<
1
2
3
4
5
6
7
8
9
10
11
12
13
>