Feature: Colonel Red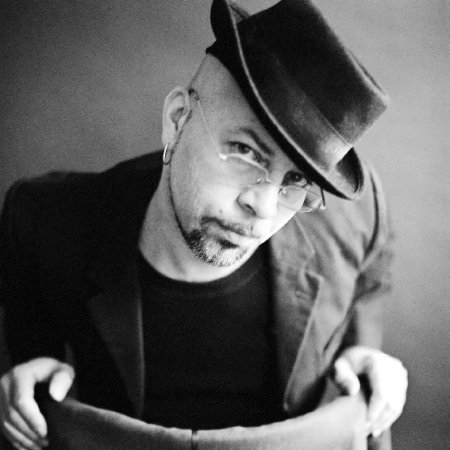 Interview by Marc Kets
Colonel Red is a singer, song-writer and performer with a clear understanding of his roots and the heritage of his ancestors on both sides of the Atlantic that result in a spiritual and learned take on modern soul music. His debut album "Blue Eye Blak" was released on People back in 2005 and since then while a lot of contemporaries have fallen away due to the close of Goya he has continued to rise above the presipice and release music that has found favour with tastemakers as renowned as Gilles Peterson who included a track of his on a Brownswood Bubblers compilation. His work fuses an original interplay between soul, acoustic and percussion all in a way that leads me to believe that Colonel Red is the real deal and someone who we will be hearing a lot more of in the years to come.


Why the name Colonel Red?
I created Colonel Red after an extremely difficult time in my life both creatively & personally! I became absolutely inspired by anything or anyone that stood up prepared to fight for what they believed in, especially as this was something I felt I was not doing myself! At least not to my fullest potential! After reading books on slavery, one in particular called "The Cimaroon's" who were slaves who refused to be slaves and fled to fight a violent fearless war against their former slave masters. I was so moved partly because how passionately they fought and also because these fearless men "unwritten or talked about" eventually occupied the island that is now called Jamaica, which is father's second homeland! Africa being his first, the home of my ancestors.
I created "Colonel Red" as my "alter ego" who lived as a Cimaroon but found himself "through battle" waking up in the middle of nowhere and this was where he began to rebuild his self, his life, his understanding, his needs and his wants! All the emotion you hear from Colonel Red's music lyrically and musically was born from this point!


How did your collaboration with John Beltran come into being?
John had heard a track I had released off the "Blue Eye Blak" album and wanted me to feature on his forthcoming album, so we traded through Goya Music. I sang on his tune "Full Colors" and he remixed a single off my album.


What makes for a successful collaboration?
I feel that firstly chemistry is important and 2secondly openness. If these two points are present all will be able to explore the creativity at hand with truth and imagination, which in my humble experience makes for amazing composition!


What is it that makes someone like IG Culture so good? What was the process like working with him on the Likwid Biskit project?
My feeling is that IG Culture follows his heart to make up his mind and this maybe is what makes him so good! I worked on the "Inner Wars" track with IG and then in rehearsals with IG, Kaidi Tatham, SnowBoy and many more before we took the project out on stage. It was tough getting it right but I had the most profound experience working with some of the UK's finest not forgetting how much fun we all had!


You had a deal with Sony with your Groove Corporation project? What was it like working with a major label?
I have had three record deals with major labels. My first record deal was with Atlantic Records, my second was with Warner Chappell and my third record deal was with Sony. With all of these record companies I never felt as free and unaffected as I do now!


Who are your favourite singers?
For his emotional and soulful voice: Marvin Gaye. For his sheer magic and musical story-telling genius: Stevie Wonder. For his extremely rare gift of expression: D'Angelo. For his sheer awesome sound and power: Ottis Reading. The most amazingly powerful singer 2 bless us: Aretha Franklin and lastly the most charismatic spiritual brave true and devoted individual: Bob Marley.


What happened to broken beat?
Broken Beat is doing exactly what was intended of Broken Beat! Broken Beat evolved from a particular detail and attitude of mind that exists through our musical history and now you can hear the sound of Broken Beat permeating in the detail of new music everywhere simply because this art form was meant to escape us, so that it could be free, and to influence and inspire the imaginations and attitudes of all creatives who wish to be open to new things!


What was it like to be a member of Pride 'n Politix?
An AMAZING first time experience in the music industry! To travel to and across the USA! To live the life of a rock star and to work with some of the most talented artists and musicians!


What is the difference in approach to a Colonel Red track and a Romillie track?
HUGE! I would like to say that they are one and the same but they are not. Romillie's approach to a track was to be totally considerate and at the same time clever, eager to please but yet at the same time selfish in wanting it to be all he feels it should be without really thinking about it. Romillie's ego is that it's all so natural, so what's the fuss? I know what I'm doing - listen to this I'll show you!
However Colonel Red's is a WHOLE DIFFERENT thing completely! Colonel Red's approach is to listen to the music, the rhythm, the beat and to ask questions like what is this track trying to say? What does it want to say? What do I want to say, what's going on? Why am I here? Where am I going? Will this ever stop? Is this really about music? NO! It's just another day on the rock trying to do the best I can with the best I've got! YU GET MI?


What does the future hold for Ruff Language?
Apart from a ridiculous amount of great music! Growth as a label more experience and knowledge in how to exploit our idea of great performances both recorded and live all over the world if we can achieve this for ourselves as a label then we will be strong and independent enough to develop and exploit not just ourselves but new artists who have the same values as we do!


What influence has your upbringing had on your music?
An extremely positive one in terms of the music I listened to. The culture coming mostly from my father, the politics that come from being a black mixed race family growing up through the 70's and 80s in Britain. School in a predominantly Irish, Asian and Black area. Influences ranging from Muhammad Ali to Bob Marley to Malcolm X to the IRA to Gandhi, all of these figures were important to all of us at some point and many more. To be on the street when I was a kid it was important to know what was what and to have your own styled identity was to be respected where as now I feel this quality has been lost in the kids doing their best to fit in with each other. I can still remember the feeling of embrace at being different!


"Blue Eye Blak" is your most well known single. Was there any message that went into this track?
Certainly! This song is about identity. My father is a black man from Jamaica and my mother is a white woman from England. The irony being that although my parentage was "black & white" my identity was far from being "black & white". What many of us as people in a certain community or congregation take for granted is not what I myself personally could take for granted. I saw myself as black when I was a child growing up and I see myself as black now as a man but I have had to work out for myself what being black in my life and skin really means to me before I could confidently share it with others. "Blue Eye Blak" makes comment on this point!


How did it feel having someone like Giles Peterson supporting your music?
Fantastic! This would mean that more people would get to hear the music and hopefully more people would start to believe in the music. Thanx G!


What effect did the closure of Goya have on the music scene?
I feel on one hand it was sad but on the other hand for many of us it was a wake up call or at least a reminder that times are changing. This music industry is and has become an Internet industry and the spirit and ethos that Goya and all who worked to support what Goya stood for is under some serious career threatening challenges!
The closure of Goya for me anyway is an opportunity disguised as a loss. It is an opportunity to learn how to become stronger and more effective within this ever-changing industry that many of us have lived a large part of our lives!
---
www.myspace.com/colonelred
www.myspace.com/rufflanguage
Photography by Femke van Heugten
www.femphotography.net
Marc Kets, Aug 2008