Feature: DJ Simon S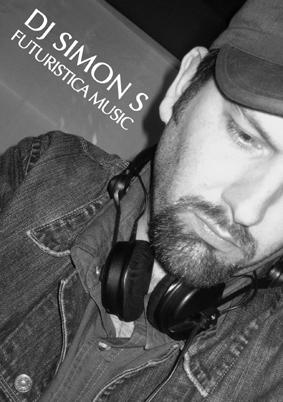 Interview by Marc Kets
A DJ for some 20 years Simon S has been playing Soul, Hip Hop, Jazz, Funk, Boogie and Broken Beats at venues such as the Wag and Starlight Rooms with Kiss Fm (94/95) alongside Chris Phillips and Paul Martin amongst others. A founder member of Abstract Blue Recordings which predominantly released music by his own project Break Reform. Support for the project has come from far and wide, but most notably from Gilles Peterson who licensed "Perfect Season" for the first installment of his hugely successful World Wide compilations. Compost Records head honcho described their album "Reformation" as being a timeless classic. More recently he has set up a second label called Futuristica Music which will be releasing music and remixes by the likes Low Budget Soul, Yam Who?, Nostalgia 77, Deborah Jordan (Silhouette Brown), Stark, Kev Brown, Kamara and Blackbeard. Futuristica promises new directions in Soul and Jazz, and with Simon S at the helm you can be assured that many exciting releases are in the pipeline.
Where did your love for jazz initially come from?
Hip Hop. I loved all the samples hip hop producers used in the early/mid 90s so I dug around finding all the original records they used. I also listened to Gilles & Patrick on the radio back in the day when they used to play loads of jazz and fusion.
Your initial break came at the Wag in 1995, would you say that you've developed musically since then or do you still adhere to the same basic fundamental musical principles?
I think the same fundamental principles on a basic level but it's hard to ignore your new influences. I've always liked the idea of using a hip hop approach to djing but bringing different styles through the mix. People like Spinna, Mad Mats and Domu are good at this in terms of the hip hop techniques and background being utilised to play broken beats, funk or jazz etc.
You've toured Japan extensively. What were your initial impressions of Nippon and why do you think it has become a Mecca for taste-makers across the globe? Is the hype justified?
Yes, Japan is DOPE! People like to play there because they are genuinely into what you do and the music being made in Europe and the US. Plus, everything is quality controlled. All the clubs have great equipment and sound systems which makes everything so much easier when touring. The care and attention to detail is second to none. Most importantly of all, the people are very friendly and approachable. It makes a big difference.
Who do you think is really doing it on the music scene at the moment? Why.
People who see that you have to do things as independently as possible. I like most music that comes out at the moment, so I'm more into peoples approach to presenting their music. For example, I like receiving music that has been recorded and manufactured by the artist themselves or label with love, care and attention rather than "this is the next big thing from the scene" vibe. Been listening to Dwight Trible "Living Water", Max Cole "Starcharts", various Raw Fusion bits and the Kindred Spirits comp. All great independent music released this year.
Who has influenced you musically?
Many people. Certainly the likes of J-Dilla, Roy Ayres, Norman Conners, Alpha, Portishead, Koop, Cinematic Orchestra, Mizell's, Axelrod. Probably who you'd expect.
Who should we be on a look-out for over the coming months?
Alessandro Oliviero & Bossa Futura on Further Out Recordings, Deborah Jordan, Stark & Low Budget Soul on Futuristica Music, Jamie Finlay on Wah Wah 45's and various new bits on Altered Vibes.
You've labeled Futuristica as "new directions in soul & jazz". What does it take for an artist to be signed by the label?
No real criteria, just honest and sincere music that I'd buy or recommend if it wasn't on my label.
You're best know for Break Reform, an immensely thoughtful and beautiful take on music. How did the project start, and what are the hopes and aspirations for the future?
Break Reform is no more. Everybody from the group are doing their own different things now so there won't be any new material I'm afraid. It was good while it lasted.
Are there any particular themes that you follow when it comes to the song-writing? How important are things like personal experiences and the immediate world around you in your work?
I've not really written any songs outside of Break Reform but I think drawing on your real life situations is crucial to making honest music of any kind.
Tell us about Aztek Productions.
Aztec was a project myself and Ohaji Kamara began around 96. We just wanted to make some music with all the great musicians we were meeting at jams around town. We ended up recording some of the first music for Julie Dexter, Nanar (Break Reform), Jason Yarde and Randolph Matthews (Low Budget Soul, Gum Drop). The CD was released in 98 on a small label and disappeared without a trace. Most of the people involved were doing other life things like having babies and getting married or leaving the country so we never could follow up all the leads etc. I may re-release it on Futuristica Music.
Are you currently working on any other projects, or do you have any more in the pipe-line?
I'm starting work on a project later this year with some familiar vocalists but I'm really concentrating on the label at the moment. I will be involved in the live aspect for Low Budget Soul this year.
Name a few albums that have changed your life/thinking?
Norman Conners "Love From The Sun", Ramp "Come Into Knowledge", John Coltrane "A Love Supreme", Gang Starr "Daily Operation", 4Hero "Two Pages", Portishead "Dummy & Portishead", Alpha "Come From Heaven", Cinematic Orchestra "Motion" & "Everday"...
What was the last album that really impressed you? Why?
Ed Motta "Aystelum". Pure artistry.
---
www.futuristicamusic.com www.samurai.fm/futuristica www.myspace.com/futuristicamusic www.myspace.com/djsimons www.trustthedj.com/simons
Marc Kets, Aug 2006