Feature: Kevin Beadle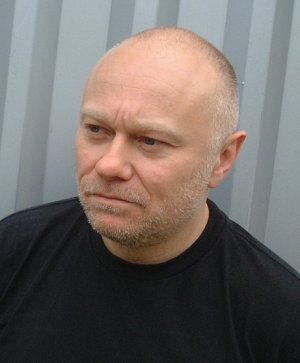 Interview by Tom Breslin
Times change and trends come and go, and music has an uncanny knack of spotting those who are faint of heart and just not in it for the long haul. Kevin Beadle is not one of "those"! A true Jazz warrior, he has spent the last 20 years forging an impeccable reputation as a DJ, producer, record compiler, label boss and radio presenter, and, as a result, earning himself a well-deserved spot, alongside the likes of Gilles Peterson and Patrick Forge, as one of London's music connoisseurs-in-chief. Mr. Beadle very kindly took some time out of his busy schedule to talk us through his musical journey thus far, and offer a brief history lesson to those of us whose knowledge is plagued by some serious gaps.
You've been a prominent figure in the London DJ scene - and far beyond - since the early 80s. For those of us who weren't fortunate enough to experience those halcyon days, what was it like to be cutting your musical teeth at such an exciting time in the city, and how did it all begin for you? (What was it that drew you to Soul, and black music more generally, when so many people were being swept up by the Punk and Rock scenes?)
I have always been into music from a very early age. I think I bought my first record in the early seventies, although it probably wasn't very soulful. As a kid, I remember the radio was always on in my house, so I used to hear all sorts of things, from the Beatles to Motown to Led Zeppelin. My first experience of really getting into black music was going with my mum to see the Detroit Spinners at Fairfield Halls in Croydon in 1977, supported by Brass Construction. Well, this absolutely blew me away. Brass Construction were promoting their second album (BC2) and their biggest track to date was 'Movin', off the first album. So imagine seeing these 12 guys in sequined 70s disco outfits having a party on stage and playing some of the toughest funk rhythms I have ever heard! Then followed by the established Detroit Spinners: four slick, suited and booted dudes singing some really danceable, soulful tunes that you couldn't help but jump around to. I never looked back from that day. Nothing else mattered musically, I just wanted to hear black music in all its forms. The jazz thing came from me always wanting a drum kit as a kid; I loved the sound of drums. Our next door neighbour at that time was a real jazz fan and he used to loan me his Reader's Digest box-sets of classic jazz recordings, knowing that they were full of big drum solos that I could get excited about. By playing these tracks over and over again I ended up actually getting into the whole tracks and getting into the whole jazz vibe.
One way or another, it seems that, alongside the likes of Patrick Forge and Gilles Peterson, you've been a part of almost every seminal Soul and Jazz fuelled London club in the last two decades - from Wag Club and The Fez, to Walk on the Wild Side, the Belvedere Arms night and This! Which of these, if any, stood out for you from the rest, and what particular ingredients made the party so special?
All of these nights were very special in their own way. The Wag club had always been an integral part of the whole Soho cool jazz scene and to play there was just a natural thing to do. It wasn't until 10pm/10.30pm that we would start deejaying there, and we would finish around 3.30am - and this was every Monday night. The top floor was mainly for the hardcore dancers - IDJ etc - and we all used to do our bit up there, but it was really DJ Sylvester's room. That guy has got some serious Latin and Afro-Cuban tunes from way back and could keep the dancers on their toes for hours. I used to go up there and drop the furious fusion stuff to mix it up. Downstairs was Gilles's room where the live stuff happened and musically was a little more accessible - Blue Note, Boogaloo, Mambo and Bossa Nova. Every week Gilles, Sylvester, Bob Jones, Chris Bangs, Baz Fe Jazz and I, and a few others, used to move around the venue playing our selections to some serious Soho jazzers. Walk On The Wild Side was a weekly Friday night that I used to do with Patrick Forge. This was more of a soulful, Boogie, Rare Groove vibe. It was in a small downstairs bar behind Selfridges that only used to hold 120 people, but the atmosphere was great. Every week we were both discovering new (old) tunes to drop and quite a few "classics" were given their first airing at that night. One that comes to mind is Oneness of Juju - "African Rhythms"! The popularity of this night became bigger than the venue and we desperately needed to move on. I remember Gilles was offered this 500 capacity venue underneath Paddington Station and so Gilles, Patrick and myself took it on and started The Fez. This ran for about three years and became London's alternative Soul night out. This was a real eclectic mash-up of sounds. We used to combine the "rare groove" element of Walk On The Wild Side with newer UK based Soul. Gilles had just started Talkin' Loud, so there was a lot of excitement around it. Every week we would drop the latest test-pressings from the Young Disciples and Galliano etc, as well as tracks from Diana Brown & The Brothers and Jamiroquai. We were also able to experiment in there. We could play the latest Dream Warriors with other US Hip-Hop with a certain vibe. I remember receiving a promo of Massive Attack's first single, "Daydreaming", and dropping that for the first time there. For the first minute or so everyone just stopped dancing and looked at me with a "what the f**k ?" look on their faces, but after the initial shock had sunk in they went for it. The Belvedere Arms in Richmond was a Sunday night residency started by Gilles, because it was his local. We all used to take our turns down there guesting for £20 and a couple of free beers. Every week the same faces used to show up. The suburban "Jazz scene" did seem to congregate in the south-west London area for some reason and that was a great meeting place to finish off the weekend (unless you were at The Wag on a Monday). Samba and Latin was always very popular down there. In fact, I remember one quite surreal night when a couple of car loads of "Shoomers" turned up, led by Danny Rampling, in thick woolly jumpers and dungarees. They'd obviously been partying all weekend, but were still on a brilliant high. There was absolutely no problem, as we all came together during a batucada, tapping empty lager bottles together to the rhythm and all dancing around this little boozer in very up market Richmond - absolute quality! THIS! became the new Monday night residency after the demise of the Wag. This really was the place where jazz met Electronica head-on. Everyone seemed to want a piece of the THIS! experience. There would be nights when you could bump into all sorts of people from various scenes. Bjork, Masters At Work, Mark Murphy, Massive Attack and Roy Ayers were all spotted shuffling around on the floor. 12 years I think it lasted in all and it was one of the most important club nights for this scene ever!
Back in the early 90s, you were one of the first to be approached by the classic record labels, such as Blue Note, Argo and Chess, to compile groundbreaking back catalogue compilations for the masses. Nowadays, the market is literally flooded with Soul and Jazz compilations and, thanks also to the Mp3 revolution, there is easy access to tracks which were previously seen as rare, vinyl-only gems. How has this affected you, as a purveyor and connoisseur of such fine music? Do you now simply have to dig harder for those hidden treasures?
In one way it's a good thing, as it introduces people who are new to the scene to what's gone before and how it has influenced today's market. On the other hand, it has taken the fun out of collecting rare undiscovered gems, because it was that experience of hearing old tunes that you'd never heard before that kept that part of the scene buzzing. Now you can find everything so easily and the majority of the younger generation who go to clubs aren't really interested. To them, an original Mo'Wax record is an old tune! I don't really go on the hunt anymore; maybe I'll pick up the odd thing now and then, but I've got all the real classics that I need. I must admit though, I still get a buzz playing those tunes when I get the opportunity.
Tell us about your experience with Clean Up Records, the label which you founded independently in the 90s and through which you unearthed the likes of Koop and the Sneaker Pimps. How did things change when the label became a subsidiary of One Little Indian, and why did you decide to move on?
When we first set up Clean Up Records it was financed on a shoestring budget. I was working at Mr Bongo in Soho and my label partner was financial controller at One Little Indian. I used to get loads of people coming into the shop who were producing music in their bedroom studios, running around flogging their records to all of the shops in the West End. Line Of Flight productions was one of the first that really excited me. It was around the whole Trip-Hop era and everyone wanted dark, downbeat Electronica. They came into the shop with their white label EP and on first hearing it I knew they had talent. We put them in the studio with keyboard player Jessica Lauren and completely reworked the EP and released it on Clean Up. It went down really well and I think we ended up selling over 2,000 copies. The guys became really good friends and they put us onto some of their mates doing the same thing - one of which was the artist Hunch. Koop was a production team of two Swedish record dealers that used to come into the shop. Again their first EP really excited me and we put that out. Unfortunately we didn't sign a proper deal with them and we lost them to Universal, who then lost them to JCR. We all know what happened after that, but I was glad we introduced these talented boys to the world. Line Of Flight then decided they wanted to move on and become a band. We brought vocalist Kelli Dayton into the band and they became the Sneaker Pimps. My partner played their stuff to Derek Birkett at One Little Indian and he wanted to sign them straight away. Part of the deal was that I was brought in by One Little Indian to be A&R manager of Clean Up, and they would finance the label and I got a job out of it. I think in the end we sold in excess of 750,000 copies of their first album around the world and they became stars. Apart from Clean Up artists, I also used to commission all of the dance remixes for One Little Indian. That was great - I was in my element, particularly after the success of the Armand Van Helden remix of "Spin Spin Sugar". Times changed over the five years I was there and the market started to dictate what I could sign and put out. I was having to start to compromise myself musically and go down the more commercial route. This was something I couldn't really get my head around and that's why I left. The Sneaker's were commercial, but we didn't set out to make them that. Their popularity came from being cutting edge and different and it worked.
In 2005 you produced and co-wrote a song for Ian Brown, "Kiss Ya Lips (No I.D.)", which featured on his critically acclaimed "Solarized" album. To the outsider, this doesn't seem like an obvious collaboration. How did the relationship with Ian Brown come about, and what was it like to work with such an iconic British musician?
The Ian Brown thing was a funny one. My Messengers production-partner, Darren Moss, has a studio in the infamous Saga Centre in West London (home of Bugz In The Attic, IG Culture, Goya etc). It's a really vibey place to be and all sorts of people pass through. We both knew James Lavelle, and Ian was hanging around with him one day. They came into the studio and heard what we were doing and Ian got really into it. The legendary "King of Indie" was digging Latin-influenced broken beat! Anyway, he kept coming in and then asked us if he could do a vocal for one of our tracks. With both of us being up for trying something out, we agreed and gave him a track. Six weeks later he came back with a vocal for the track, but he only wanted to use certain elements of it. So we completely reworked the track to Ian's spec and produced "Kiss Ya Lips(No ID)". I guess my working at One Little Indian got me more into the Indie thing and Darren was into all sorts of music, so it wasn't completely alien to us. It was a great honour to be involved and he is such a top geezer.
You've been running your club-night, "Mind Fluid", at Sosho, in London's Shoreditch, for 6 years now; that's a seriously long time in London club-land, given that things have become so trend driven. What's been the secret to your success, and do you see things continuing positively for some time to come?
Mind Fluid's success has always been based on an "expect the unexpected" ethos. I have always invited guest DJs from various sub genres of the scene in to play, and giving them an opportunity to play musical styles that they might not necessarily be known for. The music has always been a quality, freestyle selection that crosses all genres from the last 30 years.
You're also label manager at Timewarp Distribution, as well as chief consultant for the ever-excellent Bacardi B-Bar at the Southport Weekender events. With regards to distribution, how have Timewarp managed to lead the way where so many others have been falling of late? What kind of considerations come into play when looking at potential labels/artists, given the economic realities of the current musical climate?
We really look at the bigger picture. Obviously we still release one-off 12"s etc, but our main thing is to get behind labels and artists who are willing to promote themselves in the media. There are too many labels out there who think you can sell bucket loads of records with no promotion. Years ago, this might happen, but not anymore. There is so much music out there that if you want your record to stand out from the rest then you have to make people aware of it's existence. For some small labels this is not viable and sales are in the hands of the gods. We have a really good relationship with chain-stores/Amazon etc, but they will only take stuff from us that they can see the label is making an attempt to promote.
As a DJ and general lover of music, which contemporary artists, if any, have been exciting you and inspiring you in recent times. And what have been the big records for you on the dance floor?
I get excited about all sorts of records. I guess in more recent years the whole Broken Beat thing has been quite important to me, but I love my twisted Neo-Soul, Deep House and anything Latin or Afro.
Finally, what's in store for the next 12 months - what other projects do you have in the pipeline that readers should be looking out for?
I would really like to get more Messengers music out there - maybe an album! Club-wise, I want to get a new night started somewhere that reflects my musical tastes. Possibly going back to my clubbing roots and playing in dingy, dirty warehouse spaces. Maybe set up a new label. Whatever, I still want to play quality music to people who appreciate it!
---
Make sure you listen in to Kev Beadle's excellent radio show every Tuesday 10pm - midnight on Solar Radio - Channel 0129 Sky Digital and worldwide at www.solarradio.com Kev's myspace page: www.myspace.com/kevinbeadle
Tom Breslin, Oct 2006