Music Reviews
Page:
<
1
2
3
4
5
6
7
8
>
Dan Kye - Small Moments
Rhythm Section International
We're thrilled to see the return of Jordan Rakei's alter ego, Dan Kye. With Kye it's a return to the funky dance floor persona we couldn't get enough of with the 2014 debut "Joy, Ease, Lightness". With "Small Moments" he picks up where he left off and he hasn't missed a beat. Rakei came up with these compositions during the pandemic. This thumping eight track floor burner could be the perfect boost for any anxiety you may be experiencing. The momentum building beats of "Mogen" sets the table for Rakei's soft feathered vocals layered over warm chords. "Sober" is another winner heightened by Sheldon Agwu's percolating guitar rhythms. Rakei's proficiency with electronics and arrangements shines through on the instrumental banger "Focus". The combination of deep grooves, good vibes and Rakei's swaying falsetto will be irresistible to ignore. Quite a gap between releasesbut "Small Moments" is definitely worth the wait.
Reg Dancy, 01/21
Danay Suarez - Havana Cultura Sessions
Brownswood Recordings
One of the pleasant surprises that emerged from Gilles Peterson's Havana Cultura compilation was the discovery of singer/rapper Danay Suarez. The talented vocalist easily glides from hip-hop to rnb to jazz and her soprano voice is a delight to behold. One wondered what a treat it would be if she had a project all her own and fortunately someone was listening. Produced by Roberto Fonseca and his Band, this live session in Havana's EGREM studios showcases her superb vocal phrasing in a jazz forum. On the twenty two minute opener "Ser O No Ser", Danay swings effortlessly and flows over the gorgeous melodies created by the ultra talented Fonseca on piano. Fonseca and his band play with fire and intensity, seamlessly changing tempo from a slow burn to a spirited fever pitch filled with improvisation of the highest order. On "En Lo Profundo" (In The Depth), is a spirited rumba flavored tune that kicks off with a shimmering timbales and percussions that create haunting rhythms as though they were a wakeup call to the ancestors. Fonseca and his band create plenty of space for Danay's vocals to soar. The other two tracks are also equally enjoyable, in particular "Hay Un Lugar", a beautiful ballad. All in all a virtuoso performance by Danay Suarez and a wonderful record that provides a snapshot into the world of Cuban jazz. A four track EP doesn't get any better than this. Let's hope the long player is coming soon.
Reg Dancy, 01/11

Dangerdoom - The Mouse And The Mask
Lex Records
I'd been looking forward to this coming out a long time before its general release. The combination of one of my favourite rappers with one of the World's hottest producers surely wouldn't fail? I was right. This album has more of an up-tempo vibe for old Metal Face with the addition of some superb guest MC's:- Ghostface appears on 'The Mask', Cee Lo's on 'Benzie Box' and Talib Kwali features on my favourite track on the script - 'Old School', which does exactly what it says on the tin. The whole album is scattered around the US cartoon 'Adult Swim'. There are skits-a-plenty featuring the voices of Adult Swim characters and these are not only humourous but fit like a glove with the rest of the long player. The basslines are fat, the lyrics are 'Sofa King' good, it just gel's. This is without doubt my Hip Hop album of zero five. You like doom? You'll like this. You like good quality non-commercial Hip Hop? You'll like this. If you don't buy this album your stupid!!!
Jax, 12/05
Daniel Crawford - The Awakening
Bandcamp
Los Angeles based pianist Daniel Crawford delivers a delightful assortment of Jazz tinged funk and soul grooves. Crawford displays his keyboard wizardry over a number of tracks while inviting an array of talented vocalists along for the ride. Among the highlights are "Strictly For My Negus", which starts out as a piano solo which eventually morphs into explosive forays on the electric piano and synths. "The One" features a soft House tempo as well as the falsetto vocals of Vikter Duplaix. "Trouble" is a mid-tempo tune highlighted by Amp Fiddler on vocals and Flautist Monet."Home" is another winner, an Ode to Africa song by rising soul singer Cleveland P. Jones. "The Awakening" is one of those records that arrives with little fanfare yet eventually becomes a part of your musical rotation. Crawford displays a keen sense of melody combined with a flair for funky compositions. Simply stated this is definitely one of those underrated records you need in your collection.
Reg Dancy, 09/14

Dave Grusin - The Friends Of Eddie Coyle
We Want Sounds
With a career spanning four decades, there's plenty of material to choose from the Dave Grusin catalog. Somehow "The Friends of Eddie Cole", the soundtrack to the crime drama was never released until now. Grusin creates a cat and mouse imagery that mirrors the films deliberate slow pace. "Partridge Robbery/Take A Walk" is the only track over three minutes. It's a slow burning cinematic gem heightened by an impressive string section as well as percussionist Emil Richards. "Jacky Meets Pete And Andrea" is a funky wah wah inspired tune but it's woefully short at just over a minute. It's just enough time for Saxophonist Tom Scott and bassist Chuck Rainey to cut loose. With "Baylis Robbery", Grusin's string arrangements build a quiet tension that only heightens the drama of the heist. It's a theme played throughout the disc. Grusin demonstrates here that he's unheralded when it comes to music scores. Like the film itself, it's well worth going back to re-examine the rest of his work.
Reg Dancy, 05/18
David Borsu - Insight
Counterpoint Records
Here is a producer and DJ who's been on the scene for many years pushing quality music in his city of Liege in Belgium. Counterpoint recognised such a great talent and wisely snapped up David's debut. 'Insight' builds over the 70mins, as a DJ should build up a crowd, starting off with some Jazzy cuts, through mid tempo workouts, to house anthems 'Move' and 'Hustle The Funk'. For the last 6 months I've been hammering to death the Broken Beat anthem 'Mannequin Mankind'. Watching people dance to this mental track with devastating beats and basslines is pure entertainment. The ace Mark De Clive-Low remix of 'Move' is included if you missed out on the recent single but make sure you don't miss out on this.

Simon Harrison, 03/06
David Nesselhauf - Afrokraut
Legere Recordings
Producer and multi-instrumentalist David Nesselhauf latest release pays homage to the 70s period in German music known as "Afrokraut" This era fuses 70s Afro beat rhythms and German rock elements. Nesselhauf's infectious compositions pay immediate dividends here. The opening track "Boat Mama" has a funky albeit relaxed groove enhanced by cosmic guitar rhythms. "Come Along Bintang Bolong" features a spirited groove plus vocals from Amadou Bah and fellow Diazpora drummer Lucas Kochbeck "A Route Obscure" is layered with sublime keys and ethereal synths. This is a atmospheric journey that will arouse your curiosity to seek more music from this forgotten period.
Reg Dancy, 12/16
Davy Sicard - Kabar
Warner
Originally from the island of La Reunion but now based in France, Davy's music is sourced from the Reunionais folk dance 'Maloya' which is an amalgm of African slave chants and rhythms plus contemporary European instruments. The special ingredient though is Davy's beautiful voice which glides across the music like a scrumptious coating, pure sweet and expressive. Good stuff.

Graham Radley, 05/09

Dawn Pemberton - Say Somethin'
Do Right Music
East Vancouver native Dawn Pemberton comes from a Jazz background but on "Say Somethin'", her debut on Do Right music she packs a whole lot of soul and funk to match. After years of arranging and becoming the go-to-vocalist for others around town, the time is right for her to step out with her own personal project. The disc kicks off with the warm and jazzy ballad "For You" Dawn's voice is velvet soft and comforting. However she is more than capable of belting out powerful notes as well.. "Say Somethin", the title track is evidence of that. It's a slow burning jazz funk tune that features some hypnotic guitar playing from Gavin Youngash, part of her impressive band. There is a strong live instrumentation vibe going on here that transports the listener to an intimate lounge setting. Pemberton's songwriting prowess along with her ability to fuse all her influences has resulted in a vibrant and soulfully satisfying recording that will find you demanding an encore.
Reg Dancy, 12/14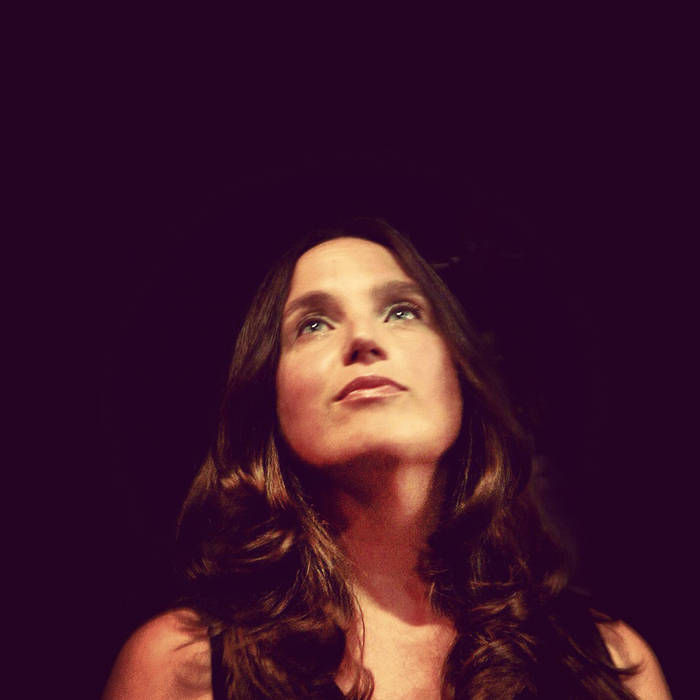 Deborah Jordan - See In The Dark
Futurisica Music
It's simply a pleasure to have a brand new full length release from singer songwriter Deborah Jordan. Whether it's her own recordings or appearing on other Futuristica releases, her angelic vocals have always felt like a gift from above. As superb as her previous recordings are her latest release "See In The Dark" is simply brillant in every way. Every song here is worhty of repeated listens but it's best to start at the beginning. "Spirit Of The Earth" starts out with soft fluid piano from K15 aligned with heavenly strings. Jordan's vocals layered on top completes the mediatative masterpiece. "Be There(Call My Name)" begins with the caress of soothing rhodes followed by funky drum programming. Jordan's lyrics are comforting as she assures that she will be there when they need her. The hip-hop flavored rhythms of "Machine" demonstrates that Jordan equally at home on a beat driven track as she is on a ballad. Speaking of ballads, the finale "I'll See you Again" is riveting tribute to her Mother, who recently passed away. Nailing the production behind her is K15, Mecca 83 and Tris Browne. "See In The Dark" is moving, spiritual and evokes messages of positivity. The music flows with heartfelt sincerity. Without a doubt it's one the best recordings you'll hear this year.
Reg Dancy, 05/20
Page:
<
1
2
3
4
5
6
7
8
>