Music Reviews
Page:
<
1
2
3
4
5
>

Georgia Anne Muldrow - Kings Ballad
Ubiquity Records
It's safe to say that no one has released more albums in the last year than Georgia Anne Muldrow. While most of those releases have been uneven at best, her latest, "Kings Ballad" is without a doubt the best of the bunch. With "Kings Ballad", Georgia has created an album that is as close to a mainstream project as anything she has ever done. That's not to say she has watered down her sound, far from it. She's simply modeled fourteen funky tunes in her image and reveals yet another layer of her immense talents. The first single "Doobie Down", highlighted with a funky groove and a wicked electric guitar riff, "R.I.P." is a moving tribute to Michael Jackson that captures the love we all had for him long before he became the King of pop. The eighties inspired "Summer Love" is a synth laden G-funk flavored joint that pairs her with her mate, Dudley Perkins. The two play the roles of young lovers feeling each other out in hope of a promising relationship. "Live" is a sweet lullaby about following your heart and pursuing your dreams. Overall this is a solid record and certainly her most satisfying since "Olesi; Fragments of Earth". While we wait for that one signature record that encapsulates all of her talents, you'll no doubt enjoy this one in the meantime.
Reg Dancy, 07/10

Georgia Anne Muldrow - Overload
Brainfeeder
Ever since her spectaclur ep "Worthnothings" and her debut lp "Olesi: Fragments Of An Earth" Georgia Anne Muldrow has serenaded us with her blend of intergalactic jazz inspired funk. With her latest release "Overload" she has signed up with Brainfeeder, the label founded by visionary multi-instrumentalist producer Flying Lotus. They've known each other for years but felt that this was the right time to work together. The title track has already generated a lot of heat and rightfully so. Produced by Mike & Keys (50 Cent, Snoog Dogg) "Overload's" infectious trap infused beats and sunny chords sets the disc in motion. Dutchman Moods and Manila's Lustbass contribute two gorgeous tunes. The mellow funk of "Aerosol" and the astral stylings of "Vital Transformation". "Canadian Hillbilly" is another highlight filled with warm spiritual melodies. Muldrow and Brainfeeder have managed to make her music more accessible without compromising her core. The result is a superb release that will please loyal fans and welcome new ones.
Reg Dancy, 12/18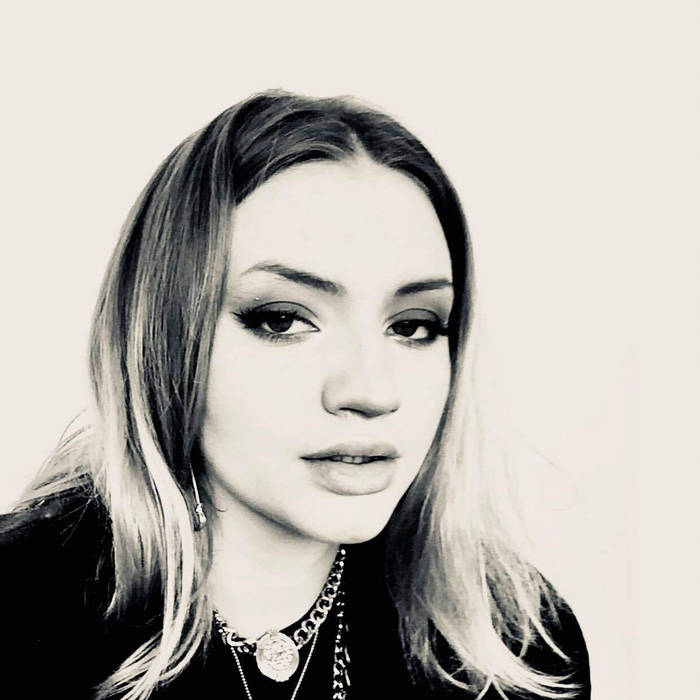 Georgie Sweet - Misunderstood
Futuristica
When vocalist Georgie Sweet dropped the lead single "Half Human" in 2018, it provided a sneak peak into a potentially promising lp. It's safe to say that with "Misunderstood" the promise has been fulfilled in spades. Gergie's debut is filled with warm soulful hip-hop beats and jazzy vibes topped off with her blissful vocals and heartfelt compositions. There are many gems to sort through but "What I Had Done" is a great place to start. Produced by Marc Rapson, the track features a catchy hook aligned with an infectious hip-hop beat built on top of an irresistible groove. Sweet's cool harmonies are the icing on the cake. "Sorry" the second single also produced by Rapson blossoms with a slow burning tempo and warm chords. A live recording of the tune from Futuristica HQ is featured here as well. "Flower", produced by Theo Howarth is a soulful electronic gem with exotic melodies augmented by Sweet's ethereal vocals. Other notable producers on hand are K15, Mecca 83 and Simon S himself. With nary a weak tune in sight this marks another triumph for the Futuristica label in 2020, not to mention an outstanding debut. For Ms Sweet, the future looks very bright.
Reg Dancy, 10/20
Gerardo Frisina - Join The Dance
Schema Records
DJ/Producer Gerardo Frisina has been creating a buzz ever since his work as a producer and remixer on the Ishtar label and eventually his own releases. His latest offering on Schema records, "Join The Dance" is a wonderful collection of compositions where some songs will lure your feet to the dance floor while others will simply fulfill your thirst for spicy rhythmic Brazilian jazz. For instance, the energetic "Will You Walk A Little Faster" is a up-tempo dance track strongly enhanced by the beautiful vocals of Norma Winstone. Other highlights include the exotic "Mille E Una Notte" that features Dj/Pianist Paolo Fedreghini. The aptly titled "Bubbly" starts out with a simmering groove on double bass courtesy of Enzo Lo Greco and complimented by the piano licks of Luigi Bonafede that eventually builds into a sparkling composition full of flavor and worthy of repeated listens. The Latin/Brazilian influences are brought to life by an A-list of musicians on the Italian jazz scene with overwhelming success. The result is a superb record that will build Frisina's reputation as a first rate producer who proves that there's room for jazz in the clubs and not just in your living room.
Reg Dancy, 10/10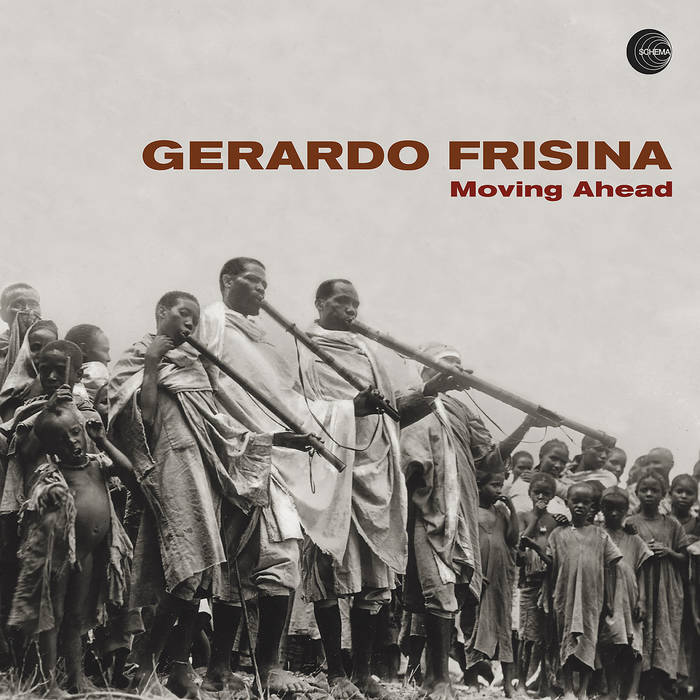 Gerardo Frisina - Moving Ahead
Schema Records
Schema records has become the home for infectious groove based Latin Jazz recordings and DJ/Producer Gerado Frisina is a major reason for that. "Moving Ahead", his latest release is loaded not only with Latin Jazz but Dub, electronica and Afro Cuban rhythms. Like his previous albums, Frisina has surrounded himself with an all star lineup of superb musicians. Ermesto Lopez's sizzling percussion is the ignition to "Marombo", a tune originally featured on last years EP. Lopez's percussion combined with Alfonso Deidda's baritone sax is simply hypnotic on "Face The Music". "Nalhl's Son" features Haruna Kuyateh on the Kora. Frisina discovered Kuyateh, a native of Gambia by chance while walking the streets of Milan where his playing caught his attention. It will certainly catch yours too. "Moving Ahead" is an instant party starter with fourteen tracks will have you moving and groovin. It evokes images of a bygone era of crowded dance floors and live jazz bands filling a room. You'll no doubt enjoy this album no matter how you consume it.
Reg Dancy, 12/20
Gerardo Frisina - Olympia
Schema Records
"Olympia" is where Jazz and Brazilian rhythms meet and proceed to heat up the dance floor DJ/Producer Gerardo Frisina fuses his production skills, particularly his clever use of samples along with his love of Brazilian music. The five track EP is bookend by two uptempo bass driven tunes. The title track is driven by a soaring piano melody and vocal samples. The latter "Obsession" layered with tasty vibes and congas. "Talking Sticks" is filled with funky wah wah guitar and organ rhythms, capped off a seductive baritone sax solo. One year after the LP release "Movement", Frisina continues to experiment with a variety of sounds that will seduce you not only to dance but to listen over and over.
Reg Dancy, 02/16
Gerardo Frisina - The Latin Kick
Schema Records
Gerardo Frinsina is proving a very busy man at the moment, having just released the excellent Congrat single on Afro Art and now his third album "The Latin Kick" drops on Schema. This man never seems to let the tempo drop with another fine selection of dancefloor bombs over the full album. Jazz is very much the foundation here with just the right amount of fusion between Jazz, Latin and Brazilian over Frisina's tip top beats. It's amazing how much energy you get when listening, so be careful, we don't want any more road-rage on the roads. A stunning follow up to his previous, already classic albums: "Ad lib" and "Hi Note".

Simon Harrison, 11/05

Gil Scott-Heron & Brian Jackson - Anthology [Messages]
Soul Brother Records
Gil Scott-Heron along with his long time musical partner Brian Jackson have committed to vinyl some of the most important politically and socially conscious music ever recorded. This compilation focuses on the period between 1973 and 1980 and includes tracks from 7 albums. The timeless classic, "The Bottle"; kicks off proceedings before moving into the uplifting "It's Your World", "Johannesburg" and the haunting "Winter In America", a track I have never tired of since first hearing it 16 years ago when I was just starting out on this crazy collecting journey. "Angel Dust", "Shut Um Down", "Alien (Hold On To Your Dreams)" along with "The Liberation (Red, Black & Green)" and a storming live version of "Home Is Where The Hatred Is" are all here. However, I'm currently hammering the tracks taken from the 1977 album "Bridges", mainly because I've never heard them before. "Delta Man (Where I'm Coming From)" and "We Almost Lost Detroit" are amazing low slung gritty grooves but even better is "Racetrack In France" which starts with a happy clappy rhythm and blues intro before slipping into a driving synth bass lead electro groove. Pure perfection!
Andy Allen, 09/05
Gilberto Gil - Banda Larga Cordel
Warner
Brazil's ex Minister of Culture is back now concentrating on his music and it's a joy to have him back. His laid back vocals are given a wide range of musical settings to wow us with, from the beats of 'Le Renaissance Africaine' to the simplicity of an acoustic guitar on 'Outros Viram'. Magic.

Graham Radley, 11/08

Gilles Peterson - Black Jazz Radio
Black Jazz Records
Gilles Peterson once again shines a light on the hidden gems that are sprinkled all over the globe. This time the beneficiary is the Black Jazz catalogue and he has woven a potent collection of celestial compositions that have been tucked away in their vaults. Notable prime cuts are the fiery "Beauty & The Electric Tub" by Henry Franklin. The Latin treat "Black Orchid" by Gene Russell will certainly lift your spirits and move your feet. The sorely underappreciated Doug Carn has a rich catalogue in his own right and "Higher Ground" will inspire you to delve more into his discography. With other gems like Kellie Patterson's "Maiden Voyage" you'll wonder how in the world these tracks didn't get more shine. Well good music is timeless and their time to shine is now.
Reg Dancy, 05/13
Page:
<
1
2
3
4
5
>