Music Reviews
Page:
<
1
2
3
>

Omara - Gracias
World Village Music
Now 78 but still delivering rich music from the soul, that celebrates her status as Cuba's musical diva. 'Nuestro gran amor with Cachaito and Chucho Valdes is wonderful as is her duet with Richard Bono but I think my favourite has to be the track with Chico Buarque 'O que sera'. Superb.

Graham Radley, 11/08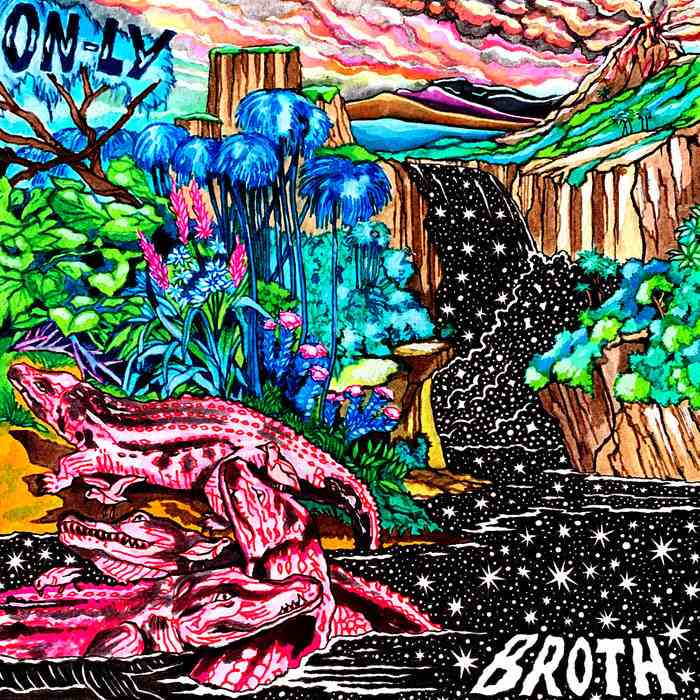 On-ly - Broth
La Sape
The Melbourne based label La Sape has been very busy this year. Among their projects are the JK Group, Horatio Luna and Godtet among others. Another impressive project has emerged courtesy of pianist and instrumentalist Joshua Smeltink aka On-ly. On-ly's latest lp "Broth" is an exploration of psychedelic fusion and hypnotic grooves. On-ly's approach to his compositions are a bit unorthodox but pleasing nonetheless. "Cante Hondo" is a trippy stew of moogs and synths. "Get It" is a twelve minute journey of atmospheric jazz funk loaded with synths and percussion. "Double Edge" is mellow spaced out funk. Overall "Broth" is a tasty treat of avant garde jazz funk along the lines of Miles Davis "Bitches Brew" with a touch of Weather Report that's definitely worth checking out.
Reg Dancy, 05/20

One Self - Children Of Possibility
Ninja Tune Records
Here we have the new project from DJ Vadim featuring MCS Blu Rum 13 and Yarah Bravo. The first taster of this new project was "Be Your Own" featuring the rather splendid Amp Fiddler remix. As you'd expect from Vadmin's previous albums, there are plenty of head nodding beats, so much so, your neck with aching by the end of this lp. Both MCs are new names to me but both are certainly names I'll be on the look out for for future releases because they sound marvellous. Just had a quick search on the net and it seems like I've missed rather a lot of Blu Rum 13 previous projects, better get the credit card out. This proves once again that if you're after pure underground music Ninja Tune is still at the top of their game. Have you checked their forthcoming releases today?
Simon Harrison, 06/05

Opolopo - Voltage Controlled Feelings
Tokyo Dawn Records
With his third full length release "Voltage Controlled Feelings", Swedish producer Opolopo has crafted a record that captures the spirit of the boogie and the power of the funk with impressive results. Opolopo's childhood influences, ranging from Herbie Hancock, Earth, Wind & Fire to Kraftwerk has figured prominently in all of his recordings. In addition he gained valuable experience as a youth traveling with his Father, a keyboard player himself. One thing I can count on from an Opolopo tune is that his songs, although they're listed in the dance category are all drenched in the sauce of soul and jazz that makes them stand out from the rest. As the case with previous Opolopo releases, "Voltage Controlled Feelings" contains an array of talented vocalists to add spice to his creative compositions. Among the highlights are "Reversed", mid-tempo tune with a clever melody and deep bass line that features vocalists Amalia and Blacktop. "Our World featuring Erik Rico" is an electro funk jam with catchy synth arrangements. "Waiting" is an energetic electro dance track with an infectious groove that features Farah on vocals. There are also plenty of tasty treats to cool down to like the mellow madness of "The Singularity" and the laid back soul 0f "Take It Slow" with Sacha Williamson. With so many selections here to enjoy it's easy to see why the remix services of Opolopo are in high demand. Hopefully he doesn't spread himself too thin so he can continue to create high quality recordings such as this one that provide immediate satisfaction.
Reg Dancy, 03/11

Orakel - When Time Doesn't Know Itself
4Lux Recordings
Orakel, the Austrian collective's debut is a cosmic groove odyssey surrounded with delicious nuggets of electronica and hip-hop samplings. Their hypnotic melodies will have you locked in immediately with the opener "The Gate" a spacey synth flavored intro filled with astral soundscapes and the wordless phrases of Dwight Trible. Trible appears again with uplifting vocal melodies on "Recreation Song", a mellow jazz-funk slow burner. "Suo Do Futuro" finds them shifting gears from a jazz fusion vibe to a down-tempo electronic gem that features vocals from Vilja Larjosto. Dorian Concept stops by to provide additional keys to the dreamy "After All". Overall this is a stunning release filled with impressive compositions reminiscent of the seventies jazz-funk period as well as future electro grooves that will certainly provide immediate satisfaction. This is the kind of release that already has me wondering, what will these guys do for an encore? This is sure to get plenty of burn until then.
Reg Dancy, 09/11

Orchestre Poly-Rythmo De Cotonou - The Vodoun Effect
Analog Africa
Covering 1973-1975 this is funk & sato from Benin's obscure labels often recorded in the most basic of ways. This is music for the people, people who want to dance to this raw mix of horns, guitar, organ on a driving bedrock of bass and drums. It's amazing where all this brilliant music keeps coming from but you end up wondering how you've not come across it before. Thanks Analog Africa - keep them coming.

Graham Radley, 12/08

Orgatronics - Moonfruit
One Note Records
Orgatronics is the debut album from producers Sam Bell and Rich Arthurs, who've made quite a name for themselves on the Latin Jazz scene with bands such as The New Mastersounds and Saudade. Here they mix electronica with Latin and Flamenco instrumentals to create some really classy and catchy numbers. There is definitely some Zero 7 and Air influences mixed in the pot, which is certainly no bad thing.
Simon Harrison, 12/05

Orgone - Cali Fever
Ubiquity Records
I like my share of electronica as much as anyone but eventually I have to come back home to the funk and a band that has been bringing that raw sound with each performance is the nine member group called Orgone. The LA based band opened eyes with their debut, "The Killion Floor" and they continue to lay down a fierce groove on "Cali Fever". There is much to savor among the twelve tracks here. On "Crazy Queen", Fanny Franklin's soaring vocals fit perfectly with the funky upbeat groove performed by the rhythm and horn section. The title track is a rhythmic Afrobeat flavored gem that provides a snapshot of their diverse musical influences.. "The Only One" is a welcome blend of funk meets disco. The track features a steady groove that breaks down three and a half minutes deep and then is followed by a wicked percussion solo that takes it to another level. "Cali Fever" is filled with raw funky grooves that will satisfy all admirers of funk and soul and are poised to carry the torch ignited by groups like the Booker T & The MG's and the Meters.
Reg Dancy, 10/10

Orgone - The Killion Floor
Ubiquity Records
Ubiquity records has become one of my favorite labels over the last few years. Their commitment to releasing quality music by independent artists has resulted in some outstanding projects. One of those standout projects was the Rewind compilations, specifically Rewind 4. It was on Rewind 4 that I was introduced to the band known as Orgone. Their cover of "Funky Nassau" is every bit as funky as the original. Now Orgone finally blesses us with their debut cd, The Killion Floor. Armed with eighteen tracks, Orgone takes us on a journey through the sounds of soul, funk and boogaloo with a laid-back California vibe. On the track "It's What You Do", the band demonstrates it's robust horn and gritty organ playing on this medium tempo funk pleaser . On "Dialed Up", the band steps out of their easy going vibe by delivering this refreshing uptempo sophisticated soul gem. As the weather begins to heat up, "The Killion Floor" would make a great companion for your barbecue. As a multi-instrumentalist band, Orgone, has laid down the groove for several hip hop acts in the game today. Now it's their time to show they can rightfully stand out on their own.

Reg Dancy, 06/08

Orquestra Imperial - Carnaval So Ano Que Vem
Totolo
Big band samba is back and oh yes it sounds sweet, the driving force is producer Alexandre Kassin, plus percussionist Domenico Lancellotti and singer/guitarist Moreno Veloso (son of Caetano) who started Orquestra Imperial as a side project, Listen out too for veteran samba star Wilson das Neves, cool tasty and vibrant.

Graham Radley, 02/08
Page:
<
1
2
3
>