Music Reviews
Page:
<
1
2
3
4
5
6
7
>

Roger Eno/Plumbline - Transparencies
Hydrogen Dukebox
Here we have the first collaboration between Roger Eno and Will Thomas aka Plumbline, both of whom have released projects on All Saints and Hydrogen Dukebox. This is a beautiful cinematic album with a whole host of influences, which literally include sounds from clocks, cars and church bells, the kind of thing you would expect from Matthew Herbert. In fact the first track "Transparency" could easily be the work of Herbert himself. The recording "Transparencies" began with joining the dots of various churches and buildings among the beautiful landscape of East Anglia. Things then moved to New York to be manipulated by Will, which gives the album the gritty rhythms, melodies and soft tones. Lovely stuff.
Simon Harrison, 03/06

Roger Robinson - Illclectica
Altered Vibes
Roger Robinson is now into his tenth year of programming poetry, performing, writing and teaching, and currently divides his time between London, New York and Trinidad. He has been hailed the UK's answer to Saul Williams and just listening to the stunning 7" single 'Nicola's Song' you can see why there is quite a buzz around the release of his debut 'Illclectica'. Produced by Roger and Rob Mac from Scratch/Speeka, they have arranged twelve brilliant tracks of various styles and moods, with exceptional poetic lyrics from Roger. Whatever you do, do not miss out on this wonderful album, you won't regret it.

Simon Harrison, 06/05

Roisin Murphy - Ruby Blue
Echo
Over the last five months, three beautifully packaged 12's have been released, produced by the genius Matthew Herbert and featuring stunning vocals from Moloko's leading lady. All nine tracks from the three 12's now come complete as a cd package. Of course we have Herbert's quirky productions skills, which are perfectly suited to Roisin's vocals, who sounds not a million miles away in style to Herbert's long time collaborator and wife Dani Siciliano. You have the sought after 'Night Of The Dancing Flame', smoker 'Sinking Feeling' and my personal faves 'Ramalama (Bang Bang)' and 'Sow Into You'. Keep an eye out for the forthcoming single because it's supposed to be remixed by someone special.
Simon Harrison, 06/05

Roland Appel - Talk to your Angel
Sonar Kollektiv
Unbelievably, this is the first solo long-player from Roland Appel, who has already achieved much success as one half of Fauna Flash (with Christian Prommer being the other), one third of Truby Trio, and co-producer of G-Stone's Voom:Voom project. His 2007 single, 'Dark Soldier', was a slow burning hit, gaining support from just about every DJ worth their salt, and the rest of the album pretty much picks up where that left off. Electronic house of varying tempos is the order of the day, so uncompromising big room drum loops and bold, building synth chords (think Ame's 'Nia') play the major part, with the occasional female vocalist in a supporting role. Granted, this isn't really anything new, in terms of an original style, and in some places feels like a definite nod to our 'progressive house' past, but that's not necessarily a bad thing. In fact, if you like a tougher shade of brilliantly produced, dance floor driven house music – and let's face it, many people do – then this is all rather good news.

Tom Breslin, 05/08

Rongetz Foundation - Kiss Kiss Double Jab
Heavenly Sweetness
"Kiss Kiss Double Jab", the Rongetz Foundation's third lp is swinging jazz meets sizzling soul. Trumpeter Stephane Ronget aka Rongetz's compositions captures the spirit of the New York City scene and features an impressive all star lineup .Newcomer Lilli Cooper, whose luscious vocals and witty charm can be heard throughout this disc. She seamlessly waxes poetic. on "Hip Hop Muze", which features Gary Bartz on alto and Trombonist Steve Turre. Cooper's vocal dexterity shines again on the Brazilian flavored "cab Samba". "Such A Morning Person" kicks off with a funky drum snare followed by an infectious bass and warm keys. All the ingredients swirling together for Cooper to operate. All in all an engaging disc that is hip, funky and full of swing.
Reg Dancy, 05/15
Ronin Arkestra - Sonkei
Albert's Favourites
Ronin Arkestra is a Tokyo based collective led by multi-instrumentalist Mark De Clive Lowe. De Clive has assembled some of the première players in Japan's jazz scene for this date. "Sonkei" is filled with rich and engaging compositions driven to greater heights thanks to Wataru Hamasaki on sax and De Clive Lowe on keys. Drummer Nobuaki Fujii from the amazing group Sleepwalker keeps the rhythm at a fever pitch and creates a canvas for everyone to paint figures of color and passion. "Onkochishin" and Cosmic Collisions are evidence of that. The latter finds De Clive Lowe alternating between synths and electronics playing off the explosive horn section. "Circle of Transmigration" is a delight that finds Hamasaki delivering breezy flute melodies The creativity flowing through this session soars from start to finish and leaves you thirsty for more. An exceptional piece of work that belongs every spiritual jazz fan's collection.
Reg Dancy, 12/19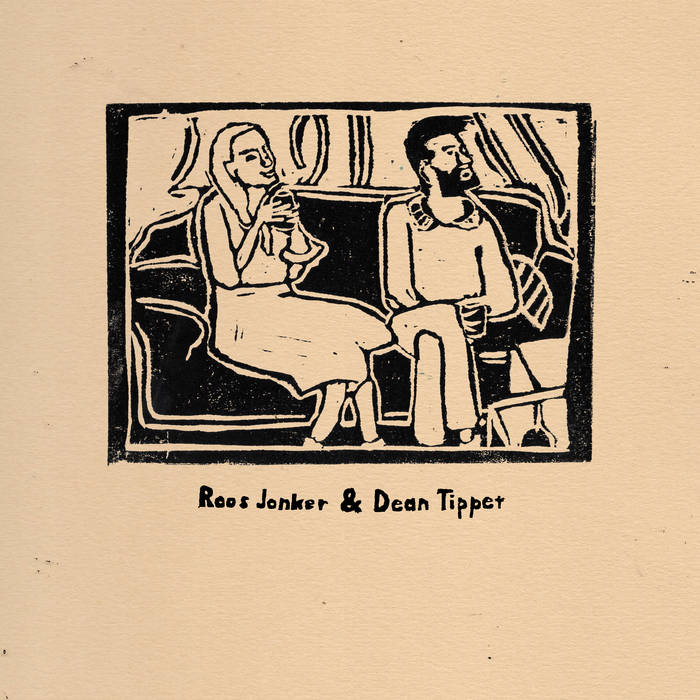 Roos Jonker & Dean Tippet - Roos Jonker & Dean Tippet
Sonar Kollektiv
Roos Jonker & Dean Tippet are a singer songwriter team from Amsterdam. They've been collaborating as a duo since 2009. Their warm and compelling vocals caught the attention of Benny Sings, eventually becoming members of his group "We'll Make it Right". Now the duo present their deeply melodic release on Sonar Kollektiv. On the Bossa flavored "The One" they blend folk and minimal pop over a sweet guitar rhythm. "Script" is a swaying lullaby that finds their vocals floating over a soft piano melody. Jonker is featured on "Dean", a blissful jazz pop arrangement with wah wah guitar rhythms laced with subtle piano and harp. Jonker and Tippet's vocals are hypnotic separately. Together they're simply mesmerizing. Without raising their vocals beyond a whisper they create ten alluring compositions that linger long after the song is over. This is a sheer delight that will certainly stroke your heartstrings.
Reg Dancy, 07/20

Roots Manuva - Awfully Deep
Big Dada Records
Rodney Smith aka Roots Manuva releases his third album for Ninja Tune's baby brother - Big Dada. Mr Manuva manages to surpass himself once more with that distinctive voice and experimental riddums. Two singles: 'Colossal Insight' and 'Too cold' have already graced the shelves in rekkid stores across the planet featuring some superb remixes alongside the originals. Now Roots is a real marmite situation, you either like his style of vocal or you hate it. This dude has written some brilliant songs in the past and there are plenty more to be devoured from this album.
I think Roots Manuva has matured even more with this release. Some of the beats are very original and he proves that he's still not scared about rhyming about the real deal in this messed up land we call home. If you still haven't bought this gem then at least give it a listen - Roots Manuva fans will love it.

Jax, 09/05

Ross Mc Henry - Child Of Somebody
First Word
Ross Mc Henry is demonstrating that he is not only a monster bass player but a superb composer as well. "Child Of Somebody", his latest solo release is a reflection of his thoughts on the events in the world today. This wonderful record filled with sublime yet ambitious compositions, brilliant soloing and a premiere lineup of musicians. "Sketch" displays elegant synergy between Mc Henry and guitarist Dylan Marshall playfully exchanging licks before creating a passage for flutist Tivon Pennicott. "Month Vortex" features warm chords from Pianist Mark De Clive Lowe and Duane Eubanks beautiful phrasings on Trumpet. "Clean Break", an ode to Ornette Coleman once again finds Marshall out front accompanied by atmospheric horn arrangements. Pennicott featured throughout leads an impressive horn section that also includes NYC residents Corey King on Trombone and Marcus Strickland on tenor sax. As enjoyable as his last album was, Mc Henry has truly out done himself here.
Reg Dancy, 10/16

Ross McHenry - Distant Oceans
First Word
Bassist Ross McHenry may be familiar to some from his work as a member of the Shaolin Afronauts. As a result he has been on the radar for some time now so it's great to experience his debut entitled "Distant Oceans" for First Word Records. McHenry shows that he isn't messing around by enlisting an impressive roster of musicians. Keyboardist Mark De Clive Lowe needs no introduction and Drummer Myele Manzanza's career has soared since emerging with Electric Wire Hustle. Ross has wrote all but one track here and has served up a fusion of rhythmic spacey experimental jazz. His compositions provide a perfect canvas for Adam Page's Tenor Sax and flute phrasings, not to mention Luca Spiler hearty Trombone riffs. Manzanza's drumming sets the foundation for everyone to improvise and they do so in grand fashion. There are many highlights to savor but let's start with "Intercosmos". Page and Spiler combine for a soaring ethereal intro that eases intro Ross's laid back bass groove. On "Griffith Park" Ross's rhythmic bass licks complement Page's hearty solos. "Malmsbury Shale" and "Prayers" are spirited excursions into celestial territory, particularly on the latter. MDCL sprinkles in some tasty Rhodes alongside the explosive horn section of Page, Spiler and Jon Hunt on Bass Clarinet. Normally you would be concerned that a lineup this impressive would give in to excessive soloing but this group sticks to the script by playing their roles well and taking these compositions to another level. This is simply a superb record that certainly merits your attention. Here's hoping this is the first of many releases from Mr McHenry.
Reg Dancy, 12/13
Page:
<
1
2
3
4
5
6
7
>