Music Reviews
Page:
<
1
2
3
4
5
6
7

Ross Mc Henry - Child Of Somebody
First Word
Ross Mc Henry is demonstrating that he is not only a monster bass player but a superb composer as well. "Child Of Somebody", his latest solo release is a reflection of his thoughts on the events in the world today. This wonderful record filled with sublime yet ambitious compositions, brilliant soloing and a premiere lineup of musicians. "Sketch" displays elegant synergy between Mc Henry and guitarist Dylan Marshall playfully exchanging licks before creating a passage for flutist Tivon Pennicott. "Month Vortex" features warm chords from Pianist Mark De Clive Lowe and Duane Eubanks beautiful phrasings on Trumpet. "Clean Break", an ode to Ornette Coleman once again finds Marshall out front accompanied by atmospheric horn arrangements. Pennicott featured throughout leads an impressive horn section that also includes NYC residents Corey King on Trombone and Marcus Strickland on tenor sax. As enjoyable as his last album was, Mc Henry has truly out done himself here.
Reg Dancy, 10/16

Ross McHenry - Distant Oceans
First Word
Bassist Ross McHenry may be familiar to some from his work as a member of the Shaolin Afronauts. As a result he has been on the radar for some time now so it's great to experience his debut entitled "Distant Oceans" for First Word Records. McHenry shows that he isn't messing around by enlisting an impressive roster of musicians. Keyboardist Mark De Clive Lowe needs no introduction and Drummer Myele Manzanza's career has soared since emerging with Electric Wire Hustle. Ross has wrote all but one track here and has served up a fusion of rhythmic spacey experimental jazz. His compositions provide a perfect canvas for Adam Page's Tenor Sax and flute phrasings, not to mention Luca Spiler hearty Trombone riffs. Manzanza's drumming sets the foundation for everyone to improvise and they do so in grand fashion. There are many highlights to savor but let's start with "Intercosmos". Page and Spiler combine for a soaring ethereal intro that eases intro Ross's laid back bass groove. On "Griffith Park" Ross's rhythmic bass licks complement Page's hearty solos. "Malmsbury Shale" and "Prayers" are spirited excursions into celestial territory, particularly on the latter. MDCL sprinkles in some tasty Rhodes alongside the explosive horn section of Page, Spiler and Jon Hunt on Bass Clarinet. Normally you would be concerned that a lineup this impressive would give in to excessive soloing but this group sticks to the script by playing their roles well and taking these compositions to another level. This is simply a superb record that certainly merits your attention. Here's hoping this is the first of many releases from Mr McHenry.
Reg Dancy, 12/13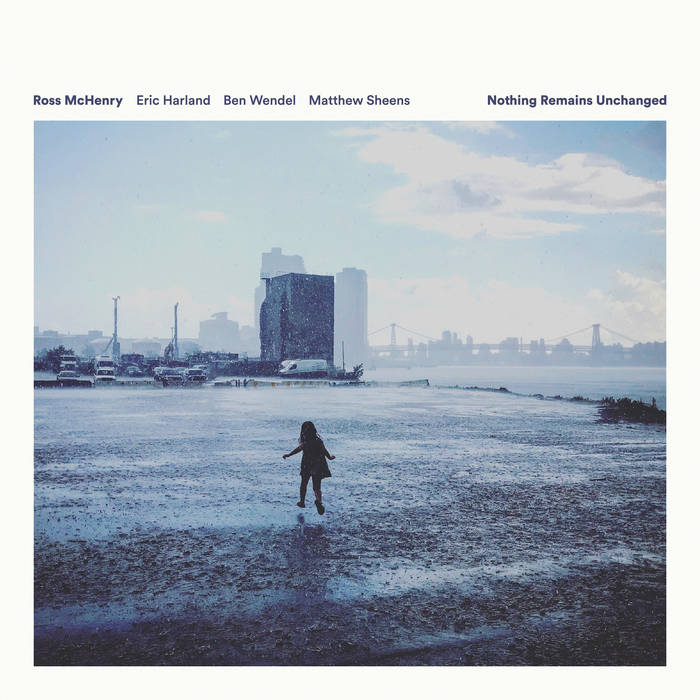 Ross McHenry - Nothing Remains Unchanged
First Word
With each new full length recording Ross McHenry is demonstrating that he's a premier bass player and composer on the rise. "Nothing Remains Unchanged" is McHenry's fourth album for First Word Records. He's joined once again by Pianist Matthew Sheens but Eric Harland replaces Myele Manzanza on drums and premier tenor saxophonist Ben Wendel sits in for the first time. Together they make a formidable quartet and the music certainly reflects that. "Complicated Us" starts us off with a warm harmonic interaction between Wendel and Sheens that sustains throughout. Harland's gentle brushes and subtle cymbals intensifies as the track nears it's end. "Woods" is tailor made for Sheens glorious piano melodies and Wendel's swirling horn flourishes. Over the course of ten minutes "This I Give To You" begins as a gentle ballad that builds into an exhilarating crescendo. You won't find fault with any track here. McHenry hits the mark with another superb recording that's adventurous and engaging. He's becoming one of the most prolific musicians on the scene today.
Reg Dancy, 06/20

Ross McHenry Trio - The Outsiders
First Word
Guitarist Ross McHenry's third release for First Word records is his first trio album. "The Outsiders" is rounded out with long time collaborators drummer Myele Manzanza and pianist Matthew Sheens. Their synergy is apparent on a number of standouts tracks. On the opening tune "It's Not How I Remembered It", Sheens melodies are assertive yet tender while Manzanza's rhythmic phrasings gain momentum along the way. The title track comes in three parts, each beginning with elegant melodies yet each distinguishing itself from the other. On "Pt.2" McHenry lays down moody rhythms augmented by Manzanza's deft touch on cymbals. On "Pt.3" Sheens, the lead voice throughout dials up the heat with a swirling barrage of high powered virtuosity. With two impressive fusion lps to his name, McHenry demonstrates he's equally adept in a trio setting as well. This is a highly satisfying record.
Reg Dancy, 12/17
Roy Ayers - Silver Vibrations
BBE
BBE has done a masterful job of shining a light on the Roy Ayers archive in recent years. The latest installment "Silver Vibrations" features a few more hidden gems worth checking out. There's an unedited version of "Chicago" that still sounds relevant today thanks in part to the thumping bass groove. "Lots Of Love" is a boogie tune that was part of a solo release by Roy on his own imprint from the early eighties. "D.C. City" is one of the stronger tracks here. It features Roy at his best blending jazz and funk with soulful vocals. Tracks like "Keep on Movin'" don't measure up to the standard we're used to hearing from him. That being said, there's enough here to remind you why you fell in love with the Ubiquity sound in the first place.
Reg Dancy, 04/19
Roy Ayers - Virgin Ubiquity II Unreleased Recordings 1976-1981
BBE Records
Over a year since the first instalment, volume 2 finally hits the shops. Thirteen tracks spread over three 12"s, it looks as beautiful as all the previous BBE releases and the inner sleeve notes give you a background to all the tracks. BBE is all about the attention to detail. Roy Ayers has released so much ground breaking music over the last 30 years, it amazes me that these have been left on the shelf until now. I won't list specific tracks for you because you need to hear them all and while you're at it, dig out Volume 1 again.
Simon Harrison, 06/05

Roy Hargrove - Nothing Serious
Verve Records
Roy Hargrove returns with a straight-ahead jazz set released at the same time as his more soul and funk orientated project 'Distractions' under his RH Factor moniker. Although 'Distractions' continues the vibe established on 'Hard Groove' it doesn't quite match the standard of 'Nothing Serious'. This set opens with the superb title track before moving into 'A Day In Vienna', both of which have a strong Latin vibe. 'Camaraderie' is a pure bop beauty but not to be overlooked is the heavy groove of 'Salima's Dance' and the beautiful swing of 'The Gift'. A truly timeless piece deserving of your full attention.

Andy Allen, 08/06
RSL - Every Preston Guild
Players
This is one debut that I've been waiting for ever since I first heard the now classic 'Wesley Music', which rocked just about every dancefloor back in 2003. Some three years later and a few more singles in the shops 'Every Preston Guild' sees the light of day. The three man team that make up RSL create a nice mix of old and new, fusing Jazz, Latin, House and Soul into the pot. If you already have the singles, the main reason for buying this album is certainly what should be their next single, 'Every Preston Guild', another anthem in the making.
Simon Harrison, 12/05

Ruby Rushton - Trudi's Songbook
22a
"Trudi's Songbook" is the latest release from the six piece London based band known as Ruby Rushton. Reedist Edward Cawthorne wrote and arranged all tracks here and his flute playing figures prominently throughout the disc. "Moonlight Woman" features a mellow groove that's driven by Aidan Shepherd's spacey keys and wicked bass licks from Fergus Ireland. "Prayer for Yusef" taps into the spirit of the acclaimed reedist with Cawthorne's bamboo flute phrasings. Percussionist Joseph Deenmamode takes the lead of spirited interplay with the rest of the band. This is a slow burning experimental fusion of funk and jazz filled with influences from Dilla to Herbie Hancock's "Head Hunters". Cawthorne and company provide plenty of moments that make this release deeply satisfying.
Reg Dancy, 06/17
Rupa and The April Fishes - Extraordinary Rendition
Cumbancha
Another superb Cumbancha release , this time focussed on singer/guitarist/composer Rupa, a fascinating character (she's also a physician in San Francisco) her earlier life involved living in a variety of countries which has meant she writes songs in a variety of languages languages, including French, Spanish, Hindi and English. The music also has many influences including gypsy, Indian and contemporary Latin, think Manu Chao meets Dengue Fever meets French Chanson and you'll be in the right direction, better still seek it out and make up your own mind whilst you enjoy.

Graham Radley, 07/08
Page:
<
1
2
3
4
5
6
7