Music Reviews
Page:
<
1
2
3
4
5
6
7
8
9
10
11
12
13
>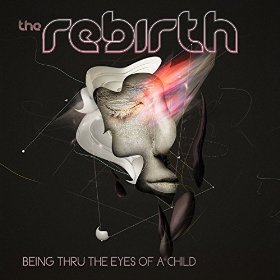 The Rebirth - Being Through The Eyes of a Child
Walk Talkin
It's a crime that we've had to wait ten years to the Rebirth's follow up to the amazing "This Journey In". You can find comfort that the new release "Being Through The Eyes of a Child" will not disappoint you in the least. Their is one noticeable difference, Noelle Scaggs, the featured vocalist on their debut has moved on but replacement Baskerville Jones more than holds her own. Carlos "Loslito" Guaico and company provide plenty of the sunny soul jazz arrangements you've come to expect from them here. They kick things off with "This Is Coming To?", featuring a funky guitar hook and soulful harmonies led by Jones. "Caterpillar" is a warm synth laden instrumental reminiscent of "Walk Talkin' Mizell" from their previous release. "Come On Over" is a stripped down gentle acoustic ballad. While their debut is a tough act to follow, The Rebirth succeed by delivering an joyful array of lush arrangements and funky rhythms worthy of repeated listens.
Reg Dancy, 06/15

The Red Flags - Hundreds Of Sunshine
Folkwit Records
The Red Flags are songwriter Keith Mouland (vocals, acoustic guitar, harmonica, whistling) and K.C. (Harry) O' Shea (upright bass, accordion, piano) here they bring us a very classy collection of Americana/alt. country that stands it fairly and squarely against most others of its ilk. The songs are stories of life, try and listen to 'Down Across he Border' to hear them at their best. Very good.
Graham Radley, 03/07

The Rongetz Foundation - One Leg Dancer
Heavenly Sweetness
Trumpeter with Metropolitan Jazz Affair Stephane Ronget steps out on his own to deliver the immaculate jazz set 'One Leg Dancer' for the faultless Heavenly Sweetness label. Amongst others he is accompanied by John Betsch on drums on a set of largely self penned tracks (other than his great versions of Billy Paul's cult classic 'East' and John Coltrane's 'Spiritual'). From the funky opening cut 'Five Tigers' you know this is going to be a rewarding listening experience and things just get better with the beautiful waltz 'Antoines', the heavy percussive dancer 'NY Timbuctu' and the aforementioned 'East' and 'Spiritual'. Also look out for the 10" which features tracks from the CD plus a stunning Afro-beat flavoured remix of 'East' by Patchworks.

Andy Allen, 06/08
The Roots - Rising Down
Def Jam
There's always great anticipation to hear a new release by The Roots. If nothing else they've been consistent throughout their career for bringing raw authentic hip hop via live instrumentation to the table. Their latest, "Rising Down" ranks among their best to date and certainly their most politically informative. Even though all but three tracks have someone teaming up with Black Thought, these appearances feel like a family reunion. On "Rising Down" Black Thought is joined by Mos Def and Styles P to discuss some of the problems that plague the world today. On "Criminal", Truck North and Saigon drop by to wax poetic about the hard life and injustice of the streets. On "Rising Up", joined by Chrisette Michelle and newcomer Wale, the group dips into the world of gogo and bangs out a track that is funky and fresh. Where "Game Theory" was very dark, "Rising Down" illuminates with fire. With lyrics to make you think and beats to make you move, what more would you expect from the Roots?

Reg Dancy, 06/08

The Sorentinos - Volume 10
The Major Label
Oh what a joy this is, West Coast American music at its best with 12 great songs and arrangements to match, to bring everything nicely together the band of Danny Sorentino, Rob Ruiz, Steve Lee and Kenny Susan enlisted Grammy Award winner David Bianco (Tom Petty, Teenage Fanclub, etc) to take control of mixing duties and it makes the package complete. Listen out for 'Ray Davies Day', 'Stop Being You', 'Seventeen' and more. Recommended.

Graham Radley, 08/07

The Soul Snatchers -
Social Beats
It's become obvious that when soul music reached it's peak in the 60's and 70's, it planted seeds all over the world. One area where those seeds are continue to bloom is the Netherlands. Say hello to the Soul Snatchers, a nine piece band that delivers 12 original songs of hot buttered soul. They don't reinvent anything here but prove that they can burn, and they burn real well. On "Crushed Ice"" the strength of the band is in full display with blaring horns, a pulsating rhythm section and stellar organ work. Special guest, Jimi Bell, lays down his soulful vocals to the high energy, guitar driven "People People." Not be outdone, vocalist YoYo adds warmth and passion to the slow jam, "Ask For Love." I'm not certain how long these guys have been together but they sound like seasoned veterans. The Soul Snatchers take you back to an era when raw funk was the rule and not the exception. Quality soul music that shouldn't be missed.

Reg Dancy, 05/08

The Stance Brothers - Kind Soul
Ricky-Tick Records
The Stance Brothers are brothers Isiah (vibes/keys) and Dwayne Stance (bass/guitar) plus drummer/percussionist Byron Breaks. Produced by Teppo 'Teddy Rok' Makynen (Teddy Rok Seven/The Five Corners Quintet/Nuspirit Helsinki), 'Kind Soul' is the trio's debut album and features a fine selection of funky jazz cuts. 'Steve McQueen', 'Jay's Lament' and 'Roll Call' from the singles are included but better in my opinion are the string laced boogie flavoured 'Bright Moments', the conga driven 'Upside The Head' and the cosmic Roy Ayers influenced 'Mean Spirit'.

Andy Allen, 03/08

The Sunburst Band -
Z Records
Joey Negro and the crew return with their 3rd Sunburst Band album and as with 'Here Comes The Sunburst Band' and 'Until The End Of Time' it's packed with outstanding disco delights and boogie bombs. It features vocal performances from the likes of Leroy Burgess and Yolanda Wynns but even better are the Pete Simpson fronted cuts such as the outstanding 'Our Lives Are Shaped' and a killer version of David Bowie's 'Fashion'. Diane Charlemange graces the classy groove 'Put A Lyric In It' and the immaculate stepper 'Movin' With The Shakers' which comes off like a Jones Girls track. Other standouts include 'Turn It Out' featuring Taka Boom which is reminiscent of early Level 42 material and 'Dusk', a clever if somewhat cheeky cut obviously inspired by Maze's 'Twilight'.

Andy Allen, 06/08

The Super-Phonics - Interstellar
Freestyle Records
The cream of the UK's soul and funk musicians, most notably Snowboy, Jean Paul 'Bluey' Maunick and Jan Kincaid and Simon Bartholomew of The Brand New Heavies, have joined forces to create The Super-Phonics. 'Interstellar' opens with the appropriately titled 'P.A.R.T.Y' which perfectly sums up this set of feel-good disco/boogie cuts. There's really not a bad track throughout but pay special attention to the Chic influenced 'Dial L For Love', 'Better Try And See' and a great version of Linda Williams' classic 'Elevate Our Minds'. If you like Joey Negro's The Sunburst Band then this is for you.
Andy Allen, 02/08

The Tibbs - Takin Over
Record Kicks
Record Kicks has proven time and again to be a haven for quality funk and soul music. The latest addition to their roster is the Amsterdam based group The Tibbs. After self releasing an EP in 2014 they're poised to garner a larger audience with their debut "Takin' Over". The eight piece band demonstrate that they can lay down some tasty grooves while lead vocalist Elsa Bekman lights a fire under every tune. "Dog Days" is a fiery tune filled spirited guitars licks from Henk Kemkes. "Until We Meet Again" is a slow burning dim the lights ballad. Guitarist Henk Kemkes spirited guitar licks add a little spice on the classic "96 Tears". Tight horn arrangements and heartfelt lyrics make The Tibbs an emerging band with plenty of soul to help you get your groove on.
Reg Dancy, 10/16
Page:
<
1
2
3
4
5
6
7
8
9
10
11
12
13
>