Feature: Lost Idol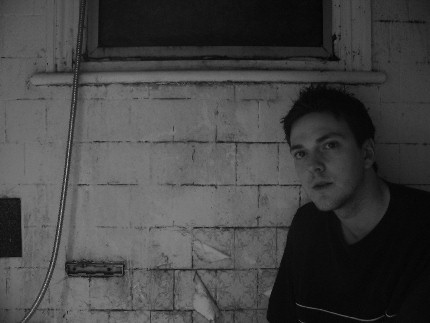 Interview by Marc Kets
James Dean, known as amongst others Lost Idol, F.I.T.S., J-Spool, and many more, has long been producing and releasing quality open-minded music through his at times melancholic, atmospheric and jazzed-out tendencies. Having released records in the past on seminal leftfield label, Hull's Pork Recordings and Rome's premier electronica label Nature, as well as on the Session label in the past, he has since set up Cookshop Music with fellow cohort, Le Femme in 2002 as an unrestrictive outlet for his own music, as well as that of like-minded musicians and producers whom he feels best reflect the ethos and the ideals of the label. Over the course of the last 3 years the label, and his work, has been given plaudits by DJs as diverse as Mr. Scruff and LTJ Bukem and is fast becoming one of UK's premier outlets for quality, downtempo and diverse music.
Marc Kets: For the uninitiated, how would you describe your sound?
James Dean: Always a tricky question for me to answer, as even I can't pin down what my "sound" is. I'm really a bit of a musical magpie when it comes to producing as I find inspiration from such a wide range of styles. I guess the essence of Lost Idol is downbeat/experimental/jazz with an emphasis on utilizing studio and sample technology with live acoustic instruments to create a sound that is both retro-organic and future thinking.
What are your aims as a producer and a DJ? Are you looking to release quality long players or are you going to concentrate on releasing singles in a bid to build up your profile?
I think with both producing and DJ'ing (and of course through my label Cookshop) I am aiming to bring a bit of diversity into people's lives. Everything these days needs a "tag" which I think in turn makes people more singular in what they listen to. If it doesn't fit the "tag", they don't want to know! I just want to make people open up a little and appreciate music that they might not have otherwise listened to. I think Lost Idol musically is best suited to long players as it's not really DJ fodder, so I'm trying to head down that route. Whilst 12"s are somewhat of a necessity I feel Lost Idol will work best on an album where you have more time in which to express ideas. I'm currently working on the debut Lost Idol LP which I hope to have ready for release in Spring next year and I'm also working on getting a live band together to get Lost Idol out of the studio and get some much needed sunlight onto my pallid limbs.
Having listened to your Dough Boy mix, I am led to believe that you have a vast and eclectic taste in music. Would you say that DJs and artists are being given more freedom to experiment and deviate from genre to genre? And what would you attribute this to?
I don't believe generally DJs and artists are being given more freedom, not in the UK at least! Through my DJ travels I've encountered a lot more open-mindedness in formerly "curtained" places such as the Czech Republic. Whilst DJ'ing there people were genuinely more enthusiastic about the music regardless of genre. I think people in the UK are sometimes too concerned with following trends and fashions than actually appreciating the music for what it is. I'd really love to be able to experiment more in a club setting but all too often a venue would see this as risk taking and ultimately if it doesn't fill their club they don't want to know.
You've mentioned developments behind the curtain and how they all seem very open to dance music in all its forms. Do you attribute this to people enjoying not being under oppressive regimes and just letting loose to whatever comes their way, or do you find that it's a genuine appreciation for music of all forms?
I reckon a bit of both. Certainly being free from a previously oppressive rule is going to make people more open to new ideas, but I do still think the UK music scene is bad at trend setting/following. I think people in the UK needs to think more for themselves what they like and not be force-fed via the media. I think there's too much musical snobbery in here in the UK, we all need to open up a little.
Who are your influences? Why?
Anyone who's prepared to be different and pursue artistically exactly what they want to do. Non-conformists everywhere. Aphex Twin, David Lynch, Future Sound Of London, John Peel, Miles Davis, Pork Recordings, Primal Scream, Silver Apples, Syd Barrett etc.
You've mentioned Miles Davis, and I'm a big fan of Mingus and Dolphy, do you think that what music in the world needs is the freedom to chase someone across the stage with an axe? Who would you chase?
Ha ha! Terrific question! Yep, musicians need axe-wielding liberties for sure. I'd chase Simon Cowell.
As a producer do you find it as important to listen to other peoples work as to your own, or are you very insular in that you don't want to be too heavily influenced into any one direction, or worse yet, catch yourself following a trend?
Unfortunately I love buying and listening to music, so it's really hard not to take notice of other peoples music. As a producer however I always try and do my own thing and not be too sucked into what's "in" at the moment.
David Lynch is one of my favorites as well, would you ever lend your music to a new revised soundtrack of something like 'Eraserhead' in the way that Jeff Mills did to Metropolis?
It would be truly an honour to be able to do something musically alongside the work of David Lynch, though I don't feel I could as it's Lynch's use of sound in his films that really make the atmosphere and set his work apart from that of other directors. He often uses quite minimal, abstract sound that puts the observer on edge - even in a "nice" film like the Straight Story (certified U!) there's still an eerie dark atmosphere (created by sound) to the film that is typically Lynch.
With there seemingly being hardly any money in independent music these days, would you say that record labels now have to either make their releases appeal to wider range of people by offering more variety on them, or simply releasing what they feel are strong releases and hoping that it'll pay dividends in the long run? (I'm not implying that making money should be the be all and end all of releasing records)
A bit of both really. Yes you want your releases to appeal to a wide variety, but at the same time if quality is compromised because of this then it just brings the label ill repute. It's a hard balancing act to which there is no right or wrong answer.
Coming from Brighton, a city with a rich and vibrant music scene, do you find that other scenes influence you within your city? How so?
Absolutely. There are so many different scenes here but it's so compact that you can't help but rub shoulders with punks, poets and budding pop stars, all very inspiring. I heard recently that Brighton has over 50 record labels, which for a city of its size is pretty remarkable.
What are the best and worst things about Brighton?
Best thing about Brighton is the people. Everyone here is involved in the arts in some way, which is very inspirational, and everybody's so damned nice. Worst thing? I guess the usual stuff - boy racers, seagulls ripping my bin bags to shreds, and the annual Labour Party Conference.
Who do you think is making a unique contribution to music at the moment? Why?
I admire Amorphous Androgynous (formerly Future Sound Of London) who has recently released an incredible psychedelic rock record entitled "Alice In Ultraland". Defiantly tongue-in-cheek and very daft but the fact that they've done it and EMI have had the balls to release it gives me a little faith in the world.
The Amorphous Androgynous whose album was given an unprecedented 6 stars by Jockey Slut (which was later withdrawn because they changed the track order) a few years back. They got to release that on the basis of the popularity of their previous work. Do you feel that the world of dance music is decidedly more beige than it was 10/12 years ago when acts like Weatherall inspired Primal Scream, Leftfield and FSOL were setting the benchmarks? Do you think that people simply aren't as interested in hunting down music for themselves and relying far too much on an FM dial for their taste in music, or do you think that dance music has become too polished and acceptable for the masses for the truly underground sounds to flourish anymore?
Certainly there is a consensus in much of the mainstream music press that dance music is dead, although with artists such as Boards Of Canada, Recloose and Luke Vibert as just a handful of examples clearly this is far from true. Sure it doesn't seem quite as innovative and revolutionary as it did in the heady Weatherall et al days, but I still think there is a strong scene and demand for quality alternative dance music. Though DJ Sammy definitely hasn't helped matters!
Name five records that changed your life and/or your thinking?
1. God Only Knows - The Beach Boys 2. Higher Than The Sun - Primal Scream 3. Kashmir - Led Zeppelin 4. Analogue Bubble bath - Aphex Twin 5. KJZ ' Photek
Have you ever tried your hand at other forms of music? You've mentioned Photek as an influence and he's pretty much leant his genius to everything from drum 'n bass to hip hop to house without ever releasing a dud. What is it about his sound that makes him able to do this?
Yes I have tried other forms. The "J-Spool" project (out on Nature records - www.finalfrontier.it) is a lot more electronica/programmed music. Lost Idol is now branching more towards the live side of things, even featuring some vocals from my own self so I guess I'm always trying to evolve musically. Photek certainly is genius, I think what distinguishes him is his drums. No matter what style he attempts you can always hear those incredibly tight Photek trademark drums. I remember being blown away the first time I heard KJZ from his Hidden Camera EP on the radio, it was like nothing I'd ever heard before - man those DRUMS!
Where do you see the industry going? Do you think that it'll all go online and digital or do you think there will still be place for independent record stores and labels to flourish within their current structures? Do you think that the labels will have to adapt? If so, then how do you see that happening?
Certainly we're in the midst of a digital revolution, which has caused a certain degree of chaos and confusion for labels and shops alike, however I think the solution is to adapt accordingly and not be too scared or put off by it all. Shops and labels are now realizing that selling online is the way forward and are thus providing that service which is a positive step. As long as labels and stores are willing to embrace the future I think there's still a chance of flourishing. At the end of the day though, I think there's always going to be a demand for physical product and stores as record shopping is something of a social thing, meeting with other like-minded souls.
I agree that record stores are vital social environments, but don't you feel that the closer we move to the digital age the more the old record shop talk has moved from the boys in front of the racks and onto the keyboard warriors having war of the words on a daily basis? Do you feel that the Internet and especially the message board phenomenon has been a good thing for dance music at large or do you find that it's made it more genre specific and close-minded?
I see what you mean regarding the online message board phenomenon, however this is a very faceless and unsociable method of communication, which I'm sure a lot of people choose to ignore. The problem is, the Internet can be word of mouth on a magnified scale, which is either helpful for artists (if it's positive word of mouth) or damaging (if it's not). I'm not sure how much effect the message board phenomenon has really had on dance music at large though.
Over the course of the past decade, what pursuits have you been involved in?
Ten years ago more or less to the day I began studying Music Technology at Gateway, Kingston University. Since completing my course there I have worked within music retail, DJ'd extensively all over the place, promoted nights, started the Cookshop record label, and released music under the Lost Idol, J-Spool and FITS aliases on several labels including Pork, Nature and Sessions. I've also managed annual trips to the mountains for a spot of Snowboarding, another passion of mine.
Non-musical hero?
George Orwell.
Given the accelerated pace of modern culture, what are we due for a revival in?
Crake! Seeing as we've had revivals in New Romantic, Burlesque, and Chas & Dave I reckon anything's possible. I think it's interesting that whilst technology is a bigger presence than ever before musically people are trying hard to get away from it and get back to more traditional recording methods.
Having released records on seminal leftfield label, Pork Recordings ' home to the magnificent Baby Mammoth and the excellent Fila Brazillia. Do you look up to these artists and how do you see their influence on your sound, if any?
Yes I certainly look up to these artists. Fila have had more albums out than pretty much any other "dance" band around, and I think the influence their work has had can be heard to this day in leftfield dance music. Equally Pork as a label were pioneers of their sound and are hugely overlooked these days. Perhaps that's what we're due for a revival in - more Pork please!
Is there anything else that you feel that we should know?
Nope, hopefully we're a bit better acquainted now.
---
Lost Idol - Chip Funk EP (cks07) is out now on Cookshop Lost Idol LP for release Spring 2006 www.cookshopmusic.co.uk
Marc Kets, Oct 2005