Music Reviews
Page:
<
1
2
3
4
5
>
Gilles Peterson & Patrick Forge present - Sunday Afternoon At Dingwalls
Ether Music
Venues that capture the spirit and soul of a time and place and style of music are few and far between but Dingwalls in its day was a shrine to the jazz dancers and here's a 25 track sample of why. Aptly starting off with Janet Lawson's 'Sunday Afternoon', there's tracks from the likes of Pharoah Sanders, Mark Murphy, Airto, Tribe Called Quest, Roy Ayers, and Norman Connors. A great collection reflecting a special time.
Graham Radley, 11/06
Gilles Peterson Presents - Havana Cultura
Brownswood Recordings
Listening to "Havana Cultura" for the first time is like tasting a succulent plate of Paella; all the flavors are dancing in your mouth and you just lean back and enjoy every bite. Like all great meals require the right amount of seasoning, "Havana Cultura" contains the right mix of diverse musicians that will appeal to generations young and old. Right from the onset, Cultura heats up with Pa Gozar, a percolating piano driven track by the nine piece Havana Cultura Band who performs on all tracks on disc 1. "Ipacuba" features singer Danay, who emerges as talent to keep an eye on. Her lovely voice and the amazing percussionist on board make this track a keeper. Danay appears several cuts but one particular favorite is "Think Twice". A tune that starts out soft and sublime and then shifts into a funky hip hop jam that pays homage to the late great J Dilla. "Chereke Son" is another winner that features the amazing Mayra Caridad Valdes on vocals. On disc 2 you are treated to a showcase of up and coming hip-hop artists like Doble Filo, an experimental hip-hop group who are very impressive on "Amor Internacional". Telmary Diaz is a rapper/poetess and displays remarkable ability on "Spiritual Sin Egoismo". Los Aldeanos is already one of Cuba's most respected hip-hop groups and provide plenty evidence on the fiery "Pasa El Borrador". There are so many performances to applaud and for that we must give kudos to Gilles Peterson for giving these musicians the exposure they deserve. "Havana Cultura" provides a glimpse into the evolution of Cuban music and it's wealth of talented musicians. Listen and enjoy.
Reg Dancy, 11/09
Girls Of The Internet - Girls FM
Drab Queen
Girls Of The Internet is a dance band collective lead by Tom Kerridge. "Girls FM", their second album evokes memories of 90s House and vintage Disco grooves. "Infinite Harmony", the lead single is filled with infectious electronic grooves complimented by soothing strings. "By My Side" is a slice of 80s funk with emotive vocals. "Shelter Me From The Storm" is punctuated by a combination of gorgeous chords, a heart pounding drum snare and soaring vocals from B Mela. "Time" is a mellow synth pop pleaser. Kerridge pays tribute to the Disco divas whose vocals graced many timeless dance tracks yet never received their due. There's plenty of tasty tunes here certain to grip your hips and move your feet. A well produced and thrilling release that captures the spirit of the past yet sounds right on time today.
Reg Dancy, 12/20
Giselle Smith - Ruthless Day
Jalapeno Records
"Ruthless Day" is the second full length lp from Giselle Smith. Formely the front woman for the Mighty Mocambos Giselle has arranged a collection of high powered funk that allow her vocals to soar. Among the highlights are "Sweet Memories", a mid-tempo track oozing with wah-wah guitar funk. "Hero" is a bluesy duet with Eric Boss. "Around again" is infectious funk with tasty piano arrangements. A potent release filled with emotive lyrics, Giselle is a welcome addition to the funk and soul scene.
Reg Dancy, 04/18
Goldie - Sine Tempus
Metalheadz
Holy cow! That's right folks, stop rubbing your eyes, it's a new album from Goldie. That part-time Bond villain, original metal head and all round Drum 'n' Bass don is back. And with some vengeance too! You might expect that he has mellowed in his slightly older age, turning away from kidney-bursting bass and ear-drum-shattering high hats, but not so. Oh no, Sine Tempus revives the iconic, industrial Metalheadz sound without reservation and tracks like 'Something About You', 'Inside Your Soul' and 'Say You Love Me' will render junglists old and new positively bugging in their bass bins. Of course, Goldie's penchant for meandering orchestral moments is also indulged, but this is not necessarily to be sniffed at. For me, the true joys on this album (originally produced in 2004) come when a more melodic, happy medium is achieved, and 'Invisible' and 'Chances' are two perfect examples of that uplifting and jazzy, yet still tough and rolling D'n'B sound that is all too rare these days. Note, this album is a digital release, available through the Metalheadz website only.

Tom Breslin, 10/08
Gonzalo Rubalcaba - Avatar
Blue Note Records
Since emerging as a teenage prodigy in his native Cuba during the 1980s, Gonzalo Rubalcaba has, once settled in the United States, released a series of critically acclaimed albums in a variety of formats including solo, trio, quartet and quintet. One of his best, 'Supernova' from 2001 comprised an all-Cuban rhythm section and a wonderful reworking of the old chestnut 'El Manisero'. For his latest offering, 'Avatar' Rubalcaba again teams up with a Cuban compatriot in composer and saxophonist Yosvany Terry, but this time with a contemporary American feel and little or no Cuban influence. If anything this harks back to the abstract sounds of Steve Coleman's M-Base collective from the mid-1980s. Thus a groove-oriented feel pervades proceedings with use of electronic keyboards. The quintet are at their best on the more reflective pieces such as 'Preludo Corto no. 2' and Horace Silver's 'Peace'. However, contemporary post-bop listeners will find much to enjoy in the more uptempo numbers. Not necessarily the ideal surroundings in which to showcase Rubalcaba's pianistic virtuosity, but an accomplished set nonetheless and one that cements his already excellent reputation.

Tim Stenhouse, 04/08

Grand Union - Through The Green Fuse
People Tree Records
What's more of a challenge - to be given an album you enjoy to review or to be logical and constructive about something you are not that all too sure about? For most, music is good music to somebody, if only the creator of the music. Let's therefore try to be constructive about an album I love, about a band that when playing live are exciting and maybe even about a band that shines above many in this year's bombardment of quality releases as, dare I say it, the year end is neigh.
The jazz critic: 'Morning Brings The Light' comes at you like some unearthed Gilles Peterson discovery. Flute and vocals with amazing rhythm, with complex yet almost basic ideas associated with labels like MPS and Impulse. How have they managed to create this familiarity in today's age of technology? Perhaps, no, simply the best piece of jazz for me this year.
A world music perspective: 'I Remember My Life like A Story' blasts you with Balkan violin madness, gypsy almost but somewhere before you reach Tango.and for 'John Riley' an invoking Irish love song only to clear the way for 'One Bright Day', a folk up-tempo groove with sparks of almost Senegalese undertones. Clever and enjoyable.
So why all the excitement? The band stepped on stage to the words "welcome to a night of folk music".. And that is where the balance of the album sits you - smack in the middle of some outstanding jazz orientated folk. 'Jane Jane' is an impressive composition, so too 'Wonderful World', aired on the aforementioned Mr. Peterson's Worldwide programme. Add to that the fact that our very own Sammy Goulbourn's The Other Side show has featured several offerings from the album too should be a clear guide to its standing.
This studio album is a must and I implore the reader to see the band perform live for they are truly a strong part of our ever changing movement with all things jazz in this country.

Steve Williams, 11/06

Grandmaster Flash - The Bridge
BBE
One day there will be a hip-hop hall of fame to showcase the achievements of the past thirty years. When that day comes and you walk through those doors, the first sight in your tour should be a mural of Grandmaster Flash. His status as one of hip-hop's pioneers is undeniable. "The Bridge" is his first studio release in nearly twenty years and contains an assortment of rappers to bless the tracks. There are some moments that are quite enjoyable such as the opening track "Shine all day" feat. Q-tip. "Bounce back" which features Busta Rhymes provides some heat. "What if" is also a solid track that features KRS-One who still remains relevant after all these years. However there are some cuts that sound dated, as though they were recorded years ago like "Here comes my DJ" and "Those Chix". Overall, it's good to have Flash back in the studio and "The Bridge" is a solid comeback. Let's hope that he doesn't wait another twenty to deliver another album.

Reg Dancy, 03/09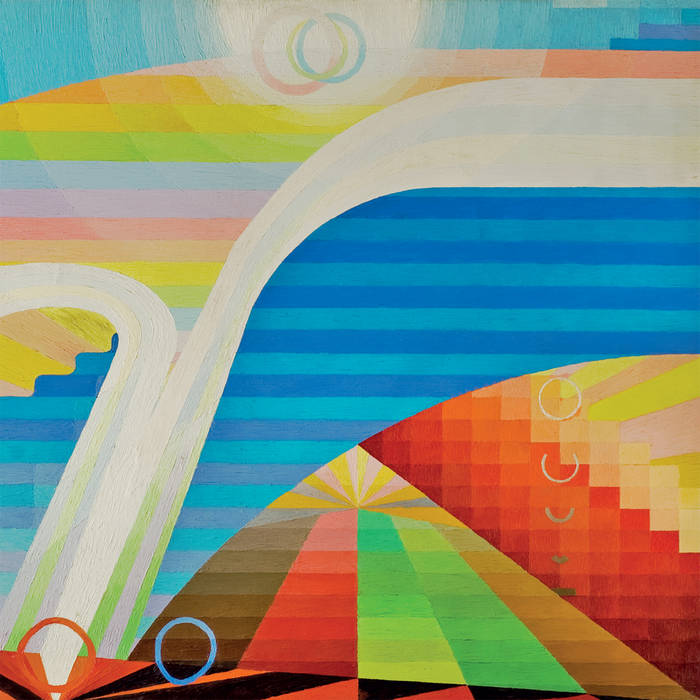 Greg Foat - Symphonie Pacifique
Strut
At first glance at "Symphonie Pacifique", the new release from pianist Greg Foat is the bright and colorful art work. One listen and these thematic compositions appear to mirror the cover art as well. There are more upbeat compositions here than previous releases yet still maintain his usual brillance. Evidence is immediate with the title track, a joyful tune filled with exuberant lush soundscapes. "Yonaguni" is another highlight due to the two cellists on board and the choral vocals. Foat's joyful melodiic flourishes takes the tune to greater heights. On "Island Life" he shifts the tempo down a bit and creates a cinematic gem filled with lavish harmonic textures. "Lament for Lamont" is a melancholy tribute to composer Duncan Lamont. The rhythm section of bassist Phil Achille and drummer Moses Boyd make for a first rate ensemble. Foat is proving to be a gifted composer as every track is a joyful listen. He continues to expand his musical vision and incorporate new elements. Simply a tremendous record that you shouldn't miss.
Reg Dancy, 07/20

Greg Foat - The Mage
Athens Of The North
"The Mage", pianist Greg Foat's ninth album is his first for the Edinburgh based label Athens Of The North. Foat's deft hand at composing and arrangements are in top form here as he weaves folk soundscapes with free jazz rhythms. "Of My Hands" is an atmospheric tune with soaring harmonies that features Trinidadian singer Kathy Garcia who originally recorded it forty years earlier. "The Magic Radish" starts out with a brooding bass line, hypnotic percussion and features Duncan Lamont on Tenor. Other notable contributors are veteran tenor Art Themen, guitarist Ray Russell, Malcolm Catto and the rising drummer Moses Boyd. Foat skillfully bridges the gap between the past and the present while solidifying his stature as a superb pianist and composer.
Reg Dancy, 06/19
Page:
<
1
2
3
4
5
>