Feature: Trickski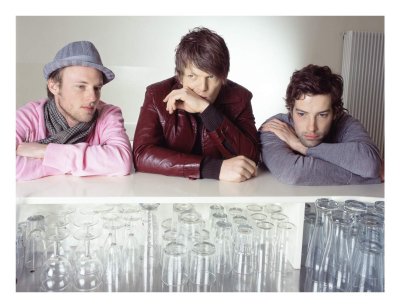 Interview by Marc Kets
Trickski are made up of three people, DJs/producers Daniel "störte" Becker and Yannick Labbe, both of whom have been active for many years on the German nu-jazz scene, and Jack Migger owner of the 5Finger label, hip hop activist and general party starter. They have, by their own admission, been turning their productions and DJ work into a more groove-based techno direction of late that has seen them gain plaudits from the likes of Laurent Garnier, Carl Craig, The Glimmer Twins, Mad Mats and Tiefschwarz, all of whom have been captivated by their Chicago grooves drenched in Detroit tech-soul with just enough dirty German humour to make them stand out above the rest. This is certainly turning out to be the year that they gate crashed the party beer in hand and with a smile on their faces, and with forthcoming remixes for the likes of 12th Floor, Forss and Studio R their influence on the year isn't complete yet. Expect big things from Trickski in the future as they write their names into the annals of dance music history in big, black marker.
You've had a fine year since your fantastic Hormony release, which last I checked was being played by a host of DJs and was on the verge of selling out, would you say that this is the year that you've 'made it' or do you still feel that you'll be "musically forgotten in 3 years" as you stated previously?
Yannick Labbe:
I still think we'll be forgotten in three years, definitely. But then again, by the time I'll be working at a desk in an insurance company, I'll be able to tell my kids that daddy had his five minutes of fame. In saying this, we still are very happy about the fact that people seem to like our music and we're quite proud of Hormony being nearly sold out and djing more international than it used to be a few years ago. In regard to this it has been a fantastic year and I hope that the years that will follow will get better and better until... you know, insurance co.
Daniel Becker:
To be correct, Hormony came out in May, which is not even half a year ago. So it's even more amazing for us. It always depends on what you consider "made it" we made some records that we are happy with and that musicians and djs that we dig go for as well. That's a great feeling. But so far it feels still like we are a very small underground one hit wonder. We'll see if we are able to do more interesting stuff that does not repeat itself... (Which is very important for us). At a certain point we have to make sure that we can feed possible and ourselves our forthcoming families. If we feel that this works partly with music we might go on. If not, there are more important things to do... I am doing a little graphic agency besides studying right now. I hope that it'll help too. Check it out:
www.goldenerwesten.net
You list your influences as everyone from Sepultura to footballer Paul Gascoigne. Do you find that you get inspiration more from the mentality behind the men? Or do you try and find influence in all aspects of life? What draws you to someone?
Yannick Labbe:
I guess we find inspiration in every moment of life. People like Gascoigne inspired us massively because they have been a part of our lives in terms of "who can you make fun of"? And I guess that's the main inspiration: taking the mickey out of everything. And then you have groups like Sepultura and slayer who have been my musical gods when I was a teenager and therefore definitively are an inspiration in the musical sense (even if you can't hear any Sepultura - reference in the Trickski sound... or...maybe a bit??!!).
Daniel Becker:
I think icons are very important. They always stand for a certain approach or attitude. Obviously we don't know these people personally but it's amazing to see what they are being reduced to. It's so much fun to observe these things. It does not matter if it's persons from public or things in everyday life. Sometimes it's even very small things like kids wearing flip-flops that are way too big... I think one simply needs to walk around with open eyes and ears and you can find amazing things all over that can give you inspiration. Don't limit yourself by saying: I only like this or that. Play around and let funny things happen. They are everywhere.
You've released, in my opinion, the single of the year in the fantastic Sweat. A record that has sent shock waves everywhere from Paris to Taipei and back again with its jarring rhythms and cool swagger. You're obviously proud of the success of the single, but have you been surprised by the diversity of the people that have been buying and playing the single? You seem to have crossed a few genres with that release.
Yannick Labbe:
Yes, very surprised, heavily amazed. Especially by Carl Craig licensing it for his fabric compilation. Thanks for the props!
Daniel Becker:
Actually the track was a remix at first but it got rejected because it was too "Teutonic"! Hehe. Obviously we are more than happy about the reactions even though we've heard that it did not sell too many copies yet. Maybe it just sold to the right kind of people. We were hoping to get a little mixed genre reactions. But did not expect what happened. It's really great.
Have you found that people are becoming more open to DJs and performers being more eclectic within their sets, or have you found that people seem to expect as little deviation as possible when you're doing the hard work behind the turntables on a Saturday night.
Yannick Labbe:
It's all about having the right connection to the crowd. If that works, you can play everything and there won't be any chance of messing up. But if this connection is not there... dann gute nacht Marie. That usually is the point where people want the least deviation as possible. So I guess club / djing biz has not changed much since 1980. The rules are still the same.
Daniel Becker:
We both evolved from the nujazz movement and developed more and more into house/techno djs. So in our personal feel we were going the other way around. But that does not mean that we are not open-minded. Privately we listen to every kind of music. Country, hip-hop, rock, there is only good or bad music. For me on the dance floor it's more about what makes sense in that very special moment. I think if a tempo change makes sense and the vibe needs it, than do it. But don't if you don't need to. Normally one can feel it, I guess...
You've been included in the I Like It! Vol.2 compilation release by Compost, with your Hormony single being made a special extra bonus track at the end. How did it feel to be a part of this project? And has it raised your profile?
Daniel Becker:
No clue if it raised our profile. Actually we were asked about participating in that project about 2 1/2 years ago when Yannick's first productions weren't even out yet. So we did a little selection for Mr. Reinboth. He was happy with it but got dj Hell to participate in the first round of "I like it". That's why we had to wait for no 2. Somehow everything took a lot longer than we thought. But I guess it's good for us that there was such a delay... at first we produced "Hormony" with the purpose to have a compilation track that is poppy, many things happen, that does not get boring listening to at home and get ready to go out. Mr. Reinboth liked it and wanted it for the Black Label thing. That's fine with us... as long as it's on the compilation as well...
Your remix of Alex Attias - 10000 Leagues Deeper must have seemingly the longest breakdown of the year, but one that incredibly doesn't lose the floor for even a second. The way that it builds out of the darkness for four blissful minutes until that almighty baseline kicks in is something quite special. Did you feel that it was taking a big risk by doing this or were you confident that it would work on the dance floor?
Yannick Labbe:
To be honest, we were working on the remix for 2 months and didn't manage to go past the first 2 minutes during that time. All the rest has been produced in three hours due to deadline pressure. So we didn't think too much about what we were doing. At a certain moment, the whole project went from annoying to fun, and we were really enjoying each sound we added (that's possibly why it's so long). It wasn't until the next morning, where I listened to it about 20 times and thought that it was getting better with each new listen, that I realized that this could really work on the floor. I still think it's our best remix yet.
Daniel Becker:
Actually Yannick got kind of paranoid the weeks before. Like he said, we've been working on in for quite a while and had nothing but the first 2 and half minutes. I tried to calm him down and we got a week more to work on it. I think the lucky punch we had was that we did not go for a regular song structure but changed it to a weather change. From rain to sun. And that normally happens, the way it happens in the mix. Step by step. Slowly it's getting better and all of the sudden you are there. Interesting moments...
You've just remixed 12th Floor for the superb Raw Fusion label. Was it an honour to work with Mad Mats? I know that you played at his night, would you say that crowds in Sweden react differently than those in Germany? If so, how?
Yannick Labbe:
I would say the remix was mostly a job and I hope that MM and the steppaz will be pleased with it. What about the Swedish crowd Daniel?
Daniel Becker:
Actually the Swedish crowd in Stockholm surprised me. We played in Sweden a few times before but not in Stokholm. Normally they went for the most songlike tracks. Discoish, melodies! Something that has somewhat a sing-along feel. But this time in Stockholm it was different. They went mad on the techiest part of the night. We did a cover version of Carl Craig's "at les", pretty much for fun. That was probably the track of the night. I just wanted to check how it works. It worked amazingly well. Before I thought the techno border is Skagerrak and Kattegat but I'm not so sure about that anymore...
Who has impressed you greatly over the past few months, in terms of production and DJing?
Yannick Labbe:
hmmm... quite a few. I have seen Richard Dorfmeister playing a superb pop-house-electro set that I would never have expected from him, at club 103 in Berlin. Then Trevor Jackson, for sure and Dixon whose parties at the weekend club definitely are one of the best in Berlin at the moment. In terms of production, quite a lot of commercial people: R.Kelly, Kanye West, Neptunes, 50 cent (or whoever does his productions)... and then lately: quiet village and map of Africa. WOW! Ah yeah, nearly forgot: two producers called Leroy and Darnell from Detroit.
I know that you're a great fan of Kanye West and I'm sure that you heard his comment that Bush doesn't care about black people. I have no idea where you stand politically but do you find that he is the voice of reason or an arrogant plagiarist as seems to be he claims spreading across the net at the moment. What is it about his work that is so appealing from a listening and a production point of view? What are your views on sampling? Do you see it as a means to an end or are you of the Matthew Herbert school of thought that it is an unnecessary evil?
Yannick Labbe:
Re: Kanye: I can't say whether he's a plagiarist or the voice of reason, but for me it was quite a good thing to see somebody speaking his mind on CNN so openly that they had to censor it on air. His work is appealing for quite a few reasons: it's creative hip-hop, the sounds are put together in a chaotic way that still makes sense as a whole. The samples are extraordinary and his lyrics are the most entertaining and funny things I've listened to for ages. And then, he uses drum samples in the same way that I do. We're soul mates, even if he doesn't know...
Daniel Becker:
...and he raps in a way that even us Europeans can understand it. About sampling I am a bit disappointed by his second album. He used nothing but the big all time favorites of soul music. For me that's a bit too easy. But I still think it's great music...
Who would win at arm wrestling out of the two of you?
Yannick Labbe:
I would.
Daniel Becker:
I would. Faggot!
Yannick Labbe:
Daniel: 60 kg. Yannick: 75 kg. Now guess who.
Daniel Becker:
But there are at least 15 kg of tits on Yannick!
Yannick Labbe:
All right skinny boy won't make you lose more hair because of your anger... I'll let u win.
Daniel Becker:
But we have to fight a bit so you start sweating to lose weight - I win in the end though, alright?
Yannick Labbe:
Yea, alright. Got another proposition: we'll get you a 70-year-old man... I know you like to fight featherweight.
Daniel Becker:
At least I don't beat up people that didn't even touch my girlfriend. They didn't even intend to...
Yannick Labbe:
All right... now whose the faggot, bitch??
Daniel Becker:
Homoerotic gay bashing fantasies on your side I would say... I'm more the quiet bookish type
Yannick Labbe:
yes, the quiet bookish type that likes to get kicked in the balls by old men in Vodafone shops.
Daniel Becker:
I beat them up if they look at me gayish!
Yannick Labbe:
you should definitely be more conscious about your sexuality.
Daniel Becker:
Huh?! It's always there. What do you mean? Let's get serious. We just like to play roles, imagine things and pretend to be like that. See how Mr. X would behave in a certain situation...
What's next on the horizon for you? What projects are you working on? When can we expect the follow up to Sweat?
Yannick Labbe:
Finishing my thesis is definitely the next thing. And then the follow up for sweat... the b-side is already nearly finished. And then a remix for a label called "antipop". And then an album. And then another 12". And then trying not to work at an insurance co and instead taking over world domination with Trickski.
Daniel Becker:
I'm also finishing my thesis and work with my good friends at Goldener Western. Hopefully more Trickski stuff. I guess an album would be great! There are many people that we'd like to work with. Actually there are a few B-sides that are almost done. We need to do more A-sides. We wasted too much time by doing remixes this summer: all in all 4 of them. Now we'll focus on Trickski stuff again. And finish our studies...
www.trickski.org
www.goldenerwesten.net
www.5finger.de
www.sonarkollektiv.de
www.warm-music.com
www.best-works.com
www.compost-records.com
Marc Kets, Oct 2005