Feature: Yukimi Nagano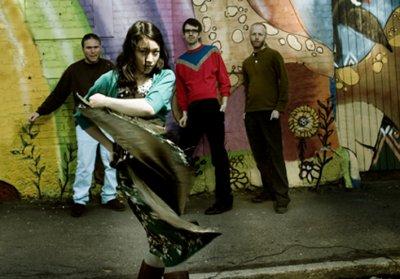 Interview by Marc Kets
Hailing from the musical hotbed of Gotenburg, Yukimi Nagano originally came to prominence via her much lauded collaboration with Koop at the turn of the century. She has gone on to work with people such as Hird, Swell Session and Sleepwalker amongst others, rapidly building a fan base that is instantly captured by her soft, angelic voice and her poignant lyrics. With a new project called Little Dragon about to release what is easily a contender for album of the year, and a heavy touring schedule with Little Dragon and Jose Gonzalez in the coming months, it looks like jazz's best kept secret is about to be revealed to the world at large and success is a guarantee.


You grew up in Gotenburg with Christoffer Berg and Andreas Saag both of whom you have collaborated with on projects, most notably with Christoffer on the genre-defining 'Keep You Kimi'. Does it make it easier working with people that you have grown up with? How so?
I think it does, collaborating with people can be a sensitive thing especially if you don't know the person well enough to say what you like or don't like. Chrisstoffer and Andreas were good friends of mine and since we had music in common we would help each other out. Chriss used to live a few blocks away from me in middle school, so I used to go to his house in his attic and sing on his songs. it was our way of spending time.


What is it about Gotenburg, and Sweden in general, that has made it such a current fertile ground for music?
It could be because it's relatively cheap to live here. Young people don't have to hustle to survive, they can easily work a couple of days a week at some cafe and spend the rest of their time making music or rehearsing with a band.


'Summer Sun' by Koop is one of my favourite records ever and of course your voice was the perfect fit to what is a beautiful record. Was this the first project that you worked on, and did this record open doors for you and allow you to collaborate with other artists?
The first record I ever recorded was with Andreas Saag, I was about 18 and it was shortly after that the Koop guys contacted me to feature on their album. A couple of years later I was touring with them all over the world so it opened a lot of doors for me both live and collaboration wise.


What was the inspiration behind the lyrics to 'Keep You Kimi'?
I thought the song was so romantic and I wanted to express that lyrically. I had loved the song from the first time I heard it, so the writing bit was quite easy but the title was written by Christoffer actually.


You've mentioned in the past that your influences range from Prince to Kraftwerk to Chaka Khan to John Coltrane, which is quite a broad range to draw from for any artist. What is it about these artists that stands out, so much for you? And are there any other contemporary singers/artists that you draw inspiration from?
Prince is nostalgic for me. I used to listen to him in junior high. He wasn't very cool at the time so I used to keep it a secret, but he will always remain a favorite no matter what! Chaka Khan had a few songs that I would listen to on repeat over and over and I still listen to her when I want to get into a good mood. It's hard to say what those artists have in common, I tend to love such a wide range of music. Out of contemporary new artist I think the knife is a favourite.


You were living in Williamsburg at one point, what drew you to the area and what do you like about New York in general?
My boyfriend at the time was living there. I think what I miss the most about New York is going to galleries. There is no art scene to compare with in Gothenburg, but these days I find It perfect to visit New York, get really inspired and then go home again.


What sort of an influence has your mother had on the way that you sing?
She used to listen to a lot of music when I was a kid and also played the piano. I think growing up with her in a creative environment made me feel very free and always encouraged me to be a musician.


You're half-Japanese/half-Swedish American - growing up in that household must have been very interesting. What sort of values did your parents try to impart upon you from their own cultures?
My parents were hippies and not so conventional so I think even they tried to break away from their cultures . I've always thought of myself as Swedish but people in Sweden seem to see me as Japanese every now and then, so I get confused about it. I've been very influenced by my Dad and his fighting spirit. I'm not sure if that's a Japanese thing but I think it is.


Do you have interests outside of music?
Art, good food, science fiction novels, arranging flowers, decorating birthday cakes etc


Jose Gonzalez has really taken the music scene by the scruff of the neck of late, and I know that you've been known to play live together. Can we ever expect any collaborations in the future? And what is it like working with someone like Jose?
It's fun. Me and Erik the drummer in Little Dragon both accompany him live so we get to travel a great deal . Lately me and Jose have written some lyrics together for his songs as well. But collaboration wise we are both so deep into our own projects at the moment that we don't really find it necessary to record a duet or anything just for the sake of it, but I'm sure we will keep writing together.


Now moving onto your new project, Little Dragon, what can you tell us about the project and how did it come about?
It's me finally singing my own melodies and lyrics with my best friends in the world ,Håkan , Fredrik and Erik. We have been friends a very long time now, always playing and making music together. And this band is all I think about.


You've described Little Dragon as 'reminding you that when you're really creating music, it's like building a ship that will travel in a direction previously inconceivable', which is quite a philosophical approach to making music. Have you got any idea where the project is going?
We love being experimental and make music in many different ways, we don't really have a form that we follow. We keep writing songs and at the moment we are thinking a lot about our second album. I think it will feel more defined for us. Its become important not to feel like we are in a box with a certain genre and style to live up to so we try to stay open.


'Twice' was picked up quite quickly by Rough Trade and for many it has been one of the standout tracks of the past couple of months. Was this made before the deal with Peacefrog, and how did Little Dragon get signed to the label?
Yes, all the songs were written before the deal. Most of the songs are quite old which explains why we are thinking about our second album. I met Pete and Phil from Peacefrog in a bus on tour with Jose. I'm not sure how they had gotten hold of the music but they asked me about the band and thereafter our manager contacted them.


How do you go about writing a song?
I share a studio with the band so whenever we aren't on tour we go there and hang out and make music. Sometimes Erik starts recording drums or Håkan plays the drums or sometimes we start by just fooling around jamming.


The buzz on the record is quite big with everyone getting very excited about it from all quarters of the press. What are your hopes for the record and have you got any touring dates lined up as well as any plans for the future of Little Dragon?
For the future we would like to make many albums and tour as much as possible. So far we have a few dates in Germany, Ireland, UK, Portugal for this autumn and bits and pieces keep coming in, so we are very excited about it.
---
Little Dragon's self-titled album gets a full UK release on 17 September 2007 through Peacefrog. Little Dragon will be touring across Europe during October and November. For more details visit:
www.little-dragon.se
www.myspace.com/yourlittledragon
www.myspace.com/68763249
www.peacefrog.com
www.myspace.com/peacefrogrecords
Marc Kets, Sep 2007